Our Fathers
(2005)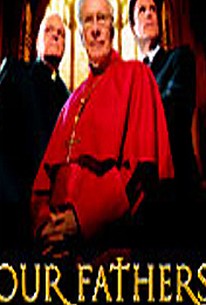 AUDIENCE SCORE
Critic Consensus: No consensus yet.
Movie Info
Based on the book by Newsweek senior editor David France, the made-for-cable Our Fathers dramatizes the pedophilia scandal that literally tore apart the Catholic Diocese of Boston. The story is set in motion when the Boston Globe gets wind of a determined effort by lawyer Mitchell Garabedian (Ted Danson) to get belated justice for his client Angelo DeFranco (Daniel Baldwin), who as a youngster was repeatedly abused sexually by Father John Geoghan (Steve Shaw). Several of Angelo's contemporaries had previously come forth with stories of Father Geoghan's misdeeds, and the similar outrages of other priests, but they had made the error of complaining to the head of the Boston Diocese, the arrogant Cardinal Bernard Law (Christopher Plummer), who turned a deaf ear to the claims and in some cases went so far as to tell the complainants that they, and not the priests, were somehow to blame. All the while, Law and his colleagues covered up the scandal through a series of covert transfers of the offending priests, allowing the perpetrators to continue their sexual activities with shocking impunity. The film also details a number of related subplots, including the plight of Mary Ryan (Ellen Burstyn), all of whose seven sons suffered from the priests' abuse, and Father Spagnolia (Brian Dennehy), who dared to attack Law's handling of the scandal from his pulpit -- only to have the sexual skeletons in his own closet revealed. Our Fathers made its Showtime cable debut on May 21, 2005.
Audience Reviews for Our Fathers
Good and necessary film. This showcases 1 of the many reasons I disagree with organized religion, especially catholicism.
Sarah Prisbylla
Super Reviewer
Our Fathers Quotes
There are no approved quotes yet for this movie.