Our Gang Follies Of 1938
(1937)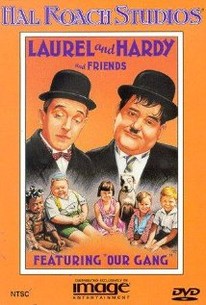 AUDIENCE SCORE
Critic Consensus: No consensus yet.
Our Gang Follies Of 1938 Photos
Movie Info
Briefly digressing from "Our Gang"'s new one-reel format, the series' December 18, 1937 release, Our Gang Follies of 1938, was expanded to two reels -- and the result is often considered to be the best "Gang" comedy of all. Another musical short in the tradition of Our Gang Follies of 1936 and Reunion in Rhythm, this one begins in the basement "theater" of Spanky McFarland, who serves as emcee of a lavish kiddie revue, built primarily around the talents of Carl "Alfalfa" Switzer, "King of the Crooners." Alas, Alfalfa has decided to forego swing music in favor of grand opera, and to that end he walks out of the show and heads to the Cosmopolitan Opera House, where Mr. Barnaby (Henry Brandon), the troupe's bemused manager, jokingly signs Alfalfa to a contract -- effective twenty years later. Falling asleep, Alfalfa begins dreaming of his future, envisioning his name in lights all over Broadway. Alfie's dream turns into a nightmare when he loses his "gift" on the eve of his operatic debut, whereupon the now aged and wizened Barnaby forces the hapless crooner to sing in the streets. Our hero is rescued when he ventures into fashionable Club Spanky, where lead singer Darla Hood and orchestra leader Billy "Buckwheat" Thomas are now making "hundreds of thousands of dollars." Though at first insisting that he's a "slave to his art," Alfie finally breaks down and agrees to return to crooning -- but his dream, and the film, aren't quite over yet. Seldom has the imagination of a child been so vividly conveyed as in Our Gang Follies of 1938, wherein the standard "show-biz movie" cliches are played out and exaggerated for all they're worth. As a bonus, the film scores as both an uproarious comedy and a legitimately entertaining musical. Highlights include Alfalfa's unforgettable renditions of "I'm the Barber of Seville" and "Learn to Croon"; Darla's interpretation of "The Love Bug Will Get You If You Don't Watch Out"; "Loch Lomond", performed by Annabella Logan (who grew up to become fabled jazz singer Annie Ross); and "That Foolish Feeling" and "There's No Two Ways About It", sung and danced by Georgia Jean LaRue and Phil MacMahon.
Critic Reviews for Our Gang Follies Of 1938
There are no critic reviews yet for Our Gang Follies Of 1938. Keep checking Rotten Tomatoes for updates!
Audience Reviews
There are no featured reviews for Our Gang Follies Of 1938 at this time.
Our Gang Follies Of 1938 Quotes
There are no approved quotes yet for this movie.