Our Idiot Brother
(2011)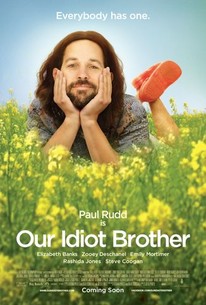 TOMATOMETER
AUDIENCE SCORE
Critic Consensus: It's decidedly uneven, but like Paul Rudd's performance in the title role, Our Idiot Brother is too charming to resist.
Movie Info
Every family has one: the sibling who is always just a little bit behind the curve when it comes to getting his life together. For sisters Liz (Emily Mortimer), Miranda (Elizabeth Banks) and Natalie (Zooey Deschanel), that person is their perennially upbeat brother Ned (Paul Rudd), an erstwhile organic farmer whose willingness to rely on the honesty of mankind is a less-than-optimum strategy for a tidy, trouble-free existence. Ned may be utterly lacking in common sense, but he is their brother and so, after his girlfriend dumps him and boots him off the farm, his sisters once again come to his rescue. As Liz, Miranda and Natalie each take a turn at housing Ned, their brother's unfailing commitment to honesty creates more than a few messes in their comfortable routines. But as each of their lives begins to unravel, Ned's family comes to realize that maybe, in believing and trusting the people around him; Ned isn't such an idiot after all. -- (C) Weinstein
News & Interviews for Our Idiot Brother
Critic Reviews for Our Idiot Brother
Audience Reviews for Our Idiot Brother
½
Ned: I like to think that if you put your trust out there; if you really give people the benefit of the doubt, see their best intentions, people will rise to the occasion. "Everybody has one." Our Idiot Brother may be what you expect, but it may also be a big surprise if you go into it expecting a comedy like we're expecting to see come out today. It's not as raunchy, it's definitely not as mean as most, and it just has an overall niceness to it. A lot of this "niceness" comes from our lead, Ned, who is one of those guys that's so nice, it makes him look dumb. He's a guy so nice that he'd trust someone to hole all his cash on a subway while he cleans up a mess. He's a guy so nice that he'd sell weed to a police officer, as long as the police officer acted sad and said he had a bad week. Ned just believes that everyone is as nice and honest as he is. Too bad that's not the world that we all populate. Ned is imprisoned early on in Our Idiot Brother for selling weed to a police officer. Once he gets out, he goes to his old place of residence; an organic farm, where he used to live with his girlfriend. Upon arriving he sees that his girlfriend has gotten a new Ned, someone just as dumb and just as nice to take Ned's place. After leaving the farm and Willy Nelson(his dog), he goes back to his family. From their he moves in with each of his three sisters at some point, complicating their lives because of his honest ways.  Along with some pretty stellar writing, a great cast makes his movie a lot of fun to watch. Paul Rudd is perfect as Ned, and his three sisters are made u of Elizabeth Banks, Zooey Deschanel, and Emily Mortimer. Four siblings for a comedy like Our Idiot Brother doesn't get too much better than those four. The movie also has a beautiful theme at the heart of it and it's one of those few mainstream comedies that I like because of its themes and not because of its over-the-top humor. Our Idiot Brother is a movie worth watching, especially for fans of Paul Rudd, as this is one of his more vibrant and fun performances to date. Even if you don't end up liking the movie for whatever reason, you're still sure to enjoy the character of Ned. We've all met someone like this that throws their trust at everyone and anyone. So while this film isn't going to change your life, it's still well worth a look.
Melvin White
Super Reviewer
½
[img]http://images.rottentomatoes.com/images/user/icons/icon14.gif[/img]
Directors Cat
Super Reviewer
Light hearted comedy wherein a hippie/outcast/knucklehead brings a family of serious types together with the magical power of love and honesty! It's cute.
Kevin M. Williams
Super Reviewer
Our Idiot Brother Quotes
| | |
| --- | --- |
| Jeremy: | She's reading. A kind of novelization of Us Weekly. |
| | |
| --- | --- |
| Miranda: | No, he's nobody. That's my brother, Ned. |
| | |
| --- | --- |
| Ned: | I live my life a certain way. And that is, I like to think ig you put your trust out there, I mean you give people the benefit of the doubt, see their best intentions, they'll want to live up to it. It doesn't always work out, clearly, but I think that if you do people will rise to the occasion. |
| | |
| --- | --- |
| Jeremy: | Just cause you're straight doesn't make you homophobic |
| Jeremy: | Just cause you're straight doesn't make you homophobic. |