Our Very Own
(2005)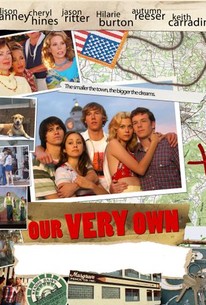 AUDIENCE SCORE
Critic Consensus: No consensus yet.
Movie Info
The directing debut of actor Cameron Watson, Our Very Own chronicles the daily hopes and dreams of high schoolers and their parents in a small Tennessee town, circa 1978. Shelbyville is the real-life birthplace not only of Watson, who wrote the script from his own recollections, but also of actress Sondra Locke -- or as the townspeople know her, "our very own Sondra Locke." The events take place in the days leading up to the town's annual horse show, where it is rumored Locke will return as a special guest. Melora (Autumn Reeser) has dreams of following Locke's path to stardom from meager beginnings, and hopes to meet the actress to pick her brain/get discovered. Her best friend, Clancy (Jason Ritter), has enough real-world problems to worry about, between falling in love with Melora and watching his parents (Keith Carradine and Allison Janney) fight over their impending bankruptcy and his father's drinking problem. Their friends Ray (Derek Carter) and Bobbie (Hilarie Burton) just want to get a car to find something to do in Nashville, while musical theater aficionado Glen (Michael McKee) begins wondering if he is coming of age differently than his friends. As the town starts to buzz with the excitement of the festival, the characters must face the decisions that will affect their futures. Cheryl Hines and Beth Grant also appear in supporting performances. Janney was nominated for a 2005 Independent Spirit Award for Best Supporting Actress.
Critic Reviews for Our Very Own
All Critics (4) | Fresh (2) | Rotten (2) | DVD (4)
The familiarity of Our Very Own's thin premise is generally offset by the pervadingly easy-going atmosphere...
There's never an honest moment in Our Very Own, with its phony Tennessee accents and its phonier melodramatic turns.
Audience Reviews for Our Very Own
I thought I'd really like this, but I was disappointed. It was slow, and didn't seem to have much of a purpose. I get that it was supposed to be the smart, cyclical type movie, with a real day-to-day in small town life feel to it.. and it hits its mark on occasion, but was only OK overall.
Nick Grimm
Super Reviewer
I really enjoyed this film - it was kind of heartbreaking but redeeming to see so many people just going through the motions, and others striving to make the best out of life.
Sarah Prisbylla
Super Reviewer
Our Very Own Quotes
There are no approved quotes yet for this movie.