Out for Justice
(1991)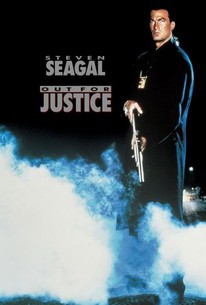 Movie Info
In this violent actioner, Steven Seagal plays a renegade cop who returns to his violence-plagued home neighborhood in Brooklyn to get revenge upon the crime lord responsible for his partner's death.
Critic Reviews for Out for Justice
Audience Reviews for Out for Justice
½
Seagal's accent will give you nightmares, but the violence was a thing of beauty. The bar scene deserves a monument.
Tsubaki Sanjuro
Super Reviewer
½
Typical Seagal early-90's movie with veteran actor John Forsythe as the bad guy this time and Gina Gershon and the late Jerry Orbach bringing up the rear in co-starring roles. this one is right up there with his best movies.
Derek Daniels
Super Reviewer
½
I remember Forsythe being very entertaining but Seagal needs to go away.
Michael Gildea
Super Reviewer