Out of the Ashes
(2003)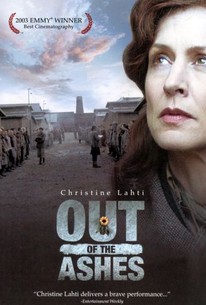 AUDIENCE SCORE
Critic Consensus: No consensus yet.
Movie Info
This powerful, politically charged cable TV movie was based on the memoirs of Hungarian gynecologist and Holocaust survivor Gisella Perl. Having spent the WWII years in charge of the woman's infirmary at Auschwitz, Perl (played by Christine Lahti) hopes to leave her living nightmare behind when the Allies liberate Europe. But when she applies for American citizenship in 1946, she is hauled into military court to explain the extent to which she "collaborated" with the Nazis during the war. The U.S. officials are especially disturbed by the number of illegal abortions Perl performed at Auschwitz without her superiors' knowledge. But as Perl struggles to explain to her relentless interrogators (the explanation taking the form of extended flashbacks), she terminated the lives of the unborn to save thousands of pregnant women from the Nazi gas chambers. Filmed on location in Canada, the U.K., and Lithuania, Out of the Ashes made its Showtime network debut on April 13, 2003.
Audience Reviews for Out of the Ashes
½
This was one of those movies that had me thinking all night after I watched it. The first 20 minutes were slow but as they delved into Dr. Perl's past, it became heartbreaking to witness what this Jewish doctor had to do to survive the Holocaust. Seeing the pregnant women getting gassed and experimented on by nazi Dr. Menegle made me understand why she performed all those illegal abortions while in Auschwitz.
Out of the Ashes Quotes
| | |
| --- | --- |
| Gisella Perl: | Those of us who did not survive, they were the best of us. |
| | |
| --- | --- |
| Gisella Perl: | Auschwitz was it;s own country, with its own rules and its own logic, and these rules changed from day to day, from situation to situation. We, who were there, who lived it, could not judge one another. So it is impossible, no, no, it is absurd for you men, sitting here, to judge me. |
| | |
| --- | --- |
| Dr. Mengele: | You, your husband and your whole entire family will be reunited sooner than you know. |
| | |
| --- | --- |
| Frederick Krauss: | I would rather die by my own hand, than give those bastards the pleasure. |