Out of the Dark
(1995)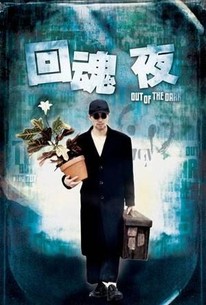 AUDIENCE SCORE
Critic Consensus: No consensus yet.
Movie Info
A man looks for a ghost in a high-rise building in Hong Kong.
Critic Reviews for Out of the Dark
There are no critic reviews yet for Out of the Dark. Keep checking Rotten Tomatoes for updates!
Audience Reviews for Out of the Dark
I don't even know where I even begin with the insanity that is this film. This is a film that Stephen Chow, who plays the lead, had no creative involvement, but this might be one of the craziest films he's ever been in. Think of the ground that covers. Seriously. While I thought the last 20 minutes of The God of Cookery, a film Chow directed, were absolutely insanity, this film is pretty much insane right from the start. Essentially, the film's narrative, if it can be called that, sees a wannabe hitman being 'contracted' to get rid of a ghost that's haunting an apartment building. And to say that this 'hitman' is crazy is pretty much an understatement. Honestly, this isn't so much of a film with an actual narrative as much as it is a collection of ridiculously silly slapstick and absurdity all around. It's definitely a movie that, when you start it, gives off the impression that it's gonna be very cheap and not particularly good, but those fears are definitely unjustified. I mean it does look cheap, in a way, but it definitely more than makes up for it with a willingness to pretty much throw anything out there and an entertaining tone. Because of the film's willingness to pretty much done anything to get a laugh, that means that not everything is gonna be a hit. And that's pretty much the problem with the film, there's pretty much a 2:1 ratio of hits to misses. And it's not like the hits are all that hilarious. Some of them are, some of them inspire more chuckles. But, like I said, I did enjoy the film's willingness to pretty much do anything for a laugh. The only reason the film gets three stars, and maybe not something higher than that, is simply because of the fact that, with so much schtick in this film, hardly any of it truly sticks out. Some of it does, but a lot of it doesn't. I think that's the only thing really holding it back, while it is entertaining, it is pretty forgettable for the most part. And I honestly don't think that this is a film that's gonna be for everybody. I just think it requires a certain mindset to enjoy and, at least for me, I appreciate this type of goofiness out of movies. But I can't exactly give it a glowing recommendation, for the reasons stated above, but I had a good time watching this. Might not be the best, but it's certainly entertaining for its very brief running time.
Jesse Ortega
Super Reviewer
Combine Stephen Chow and ghosts and you have a winning comedic film. One of his funniest.
Anthony Valletta
Super Reviewer
Out of the Dark Quotes
There are no approved quotes yet for this movie.