Out of the Furnace
(2013)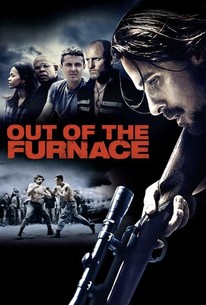 TOMATOMETER
AUDIENCE SCORE
Critic Consensus: While it may not make the most of its incredible cast, Out of the Furnace is still so packed with talent that it's hard to turn away.
Out of the Furnace Photos
Movie Info
From Scott Cooper, the critically-acclaimed writer and director of Crazy Heart, comes a gripping and gritty drama about family, fate, circumstance, and justice. Russell Baze (Christian Bale) has a rough life: he works a dead-end blue collar job at the local steel mill by day, and cares for his terminally ill father by night. When Russell's brother Rodney (Casey Affleck) returns home from serving time in Iraq, he gets lured into one of the most ruthless crime rings in the Northeast and mysteriously disappears. The police fail to crack the case, so - with nothing left to lose - Russell takes matters into his own hands, putting his life on the line to seek justice for his brother. The impressive cast of Christian Bale and Woody Harrelson are rounded out by Casey Affleck, Forest Whitaker, Willem Dafoe, Zoe Saldana and Sam Shepard. (c) Relativity
News & Interviews for Out of the Furnace
Critic Reviews for Out of the Furnace
Audience Reviews for Out of the Furnace
After finally helping Jeff Bridges to a long overdue Oscar in "Crazy Heart", director Scott Cooper follows up that tale of a downward spiralling musician with another one of downward spiralling blue collar workers. Narratively, it's lacking a certain something but one thing's for sure with Cooper; he certainly knows how to bring out the best from his actors. With a cruel twist of fate, Russell Baze (Christian Bale) lands himself in prison after a driving offence. While inside, his terminally ill father passes away and his younger, ex-soldier, brother Rodney (Casey Affleck) takes to bare-knuckle fighting to pay off debts. When Russell is released, he finds that Rodney is in over his head with a ruthless crime ring led by Harlan DeGroat (Woody Harrelson). When Rodney eventually disappears, Russell takes matters into his own hands. If the town depicted in "Out Of The Furnace" feels familiar then that because it's likely reminding you of the same Pennsylvania steel-mill town that was the setting for Michael Cimino's "The Deer Hunter" in 1978. It would also seem that Scott Cooper is intent on regularly referencing Cimino's classic throughout this films duration; it channels a similar theme of a lack of opportunities for the characters and even though some serve their country in war (Iraq steps in for Vietnam this time) they are forgotten about when they return home. We also get to stare down the scope of a hunting rifle now and again, and there's even a scene where actual deer hunting takes place. And the point of it all, I hear you ask? Well, to be frank, I'm not particularly sure. Maybe Cooper is trying to tell us that so many years - and wars - down the line nothing has changed for these working class people. They're mere fodder and left to go back to their land of opportunity were opportunity doesn't really exist for them. This could be Cooper's intention or it could just be that I'm reading into his script a little too deeply when it's highly possible that there is no depth in the first place. Somewhere there's a commentary on the economic state of contemporary America but the message is muddled somewhat, as it veers into a generic backwoods crime thriller. The film is a strangely frustrating experience whereby what you see in front of you is visually commanding but it's hard to connect to the character's and their plight. The weakness of the script is apparent and it's hard to grasp the film as anything more than a revenge flick that leaves a slightly nasty aftertaste. That being said, Cooper is certainly a director that has a good eye and feel for detail and he has a full command over his splendid ensemble. It's the solid performances that really make the film tick. Not that any further proof is required in terms of their acting abilities but a smoulderingly intense Affleck and a snarling, brutish Harrelson really excel and solid (all-be-it, underwritten) support is delivered from Whitaker and Dafoe. It's Bale who impresses most, though, in one of his most effective and understated roles. There's nothing heroic about him. He's simply a soulful man with a deep sense of family commitment and refuses to yield when anyone threatens that. As much as I couldn't see what the point of the whole affair was, I still went along with it. It's deliberately paced and still manages to hold your attention. As a director, Cooper shows a lot of promise but he needs to tighten up on his writing duties. When that happens, I suspect we'll see a real improvement on this potentially solid filmmaker. Mark Walker
Mark Walker
Super Reviewer
No great cast could save this from becoming an excruciatingly dull and predictable experience - a pointless film with an uneven structure where the first act takes more than an hour just to shape its simple premise and whose development is nothing that we haven't seen before.
Carlos Magalhães
Super Reviewer
A bit too slow for me. Besides, the content isn't gripping either. Only the performances are appreciable. 1/10.
familiar stranger
Super Reviewer
Out of the Furnace Quotes
| | |
| --- | --- |
| Russell Baze: | We got a problem here? |
| Rodney Baze, Jr.: | You got a problem with me? |
| Harlan DeGroat: | I've got a problem with everybody. |
| | |
| --- | --- |
| Russell Baze: | My Brother was suppose to meet me here a half an hour ago... |
| Russell Baze: | My Brother was suppose to meet me here a half an hour ago. |