Out of the Past
(1947)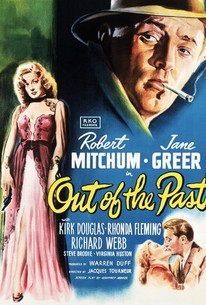 Movie Info
This quintessential film noir made contract player Robert Mitchum a star and set the standard for the genre for years to come. Private eye Jeff Bailey (Robert Mitchum) is hired by notorious gangster Whit Sterling (Kirk Douglas) to find his mistress, Kathie Moffett (Jane Greer), who shot him and ran off with $40,000. Jeff traces Kathie to Mexico, but when he meets her he falls in love and willingly becomes involved in an increasingly complicated web of double-crosses, blackmail, and murder. Directed with supreme skill by Jacques Tourneur and brilliantly photographed by Nicholas Musuraca, this is an unrelentingly gloomy film set in a dark world of greed and deceit where love is used to trap the gullible. It was here that Mitchum created what became his characteristic screen persona: the droopy-eyed cynic who accepts fate with a studied nonchalance. Jane Greer is equally superb, perfecting the role of the femme fatale with a combination of erotic fire and cool detachment. Her first appearance in the film, in silhouette as she enters a dark cantina from the bright sunlight, is one of the great entrances in film history. A seminal genre film, certainly among the greatest whose influence is still felt today. Out of the Past was remade as the distinctly inferior Against All Odds.
News & Interviews for Out of the Past
Critic Reviews for Out of the Past
Audience Reviews for Out of the Past
Mitchum is little more than a big slab of beef walking around in a Macintosh trench coat, mumbling to himself, as all around him conspire in some way to dupe everyone else. He only just holds onto his hat, all the doublecrossing, doubletalking, backstabbing rigamarole going on. Did I mention that there's a bad girl in the middle of it all? Did I have to mention it? And yeah, she's got legs down to there and back up again. I'm gonna need a drink. Make that two.
Kevin M. Williams
Super Reviewer
½
A stranger uncovers the secret past of a small town gas station owner drawing him back into the shadowy world he was trying to forget. This was Robert Mitchum's first starring role and it's easy to see why it made him a star; he is superb as the ex-private eye who falls for the charms of one of the quintessential femme fatales in the shape of Jane Greer. Kirk Douglas also gives brilliant support as the great manipulator looking for revenge and the web of deceit he weaves makes for an intriguing plot that's complex without being overly convoluted. The icing on the cake is the artistic eye of Jacques Tourneur who makes the film one of the most visually attractive crime dramas ever made. Years ahead of its time, Out Of The Past is one of THE greats of Film Noir.
½
The director of Cat People strikes again with what may be a perfect noir.
Ken Stachnik
Super Reviewer
Out of the Past Quotes
| | |
| --- | --- |
| Kathie Moffett: | Tell me why you're so hard to please. |
| Jeff Bailey: | Take me where I can tell you. |
| | |
| --- | --- |
| Jeff Bailey: | You're like a leaf that blows from one gutter to another |
| Jeff Bailey: | You're like a leaf that blows from one gutter to another. |
| | |
| --- | --- |
| Jeff Bailey: | Baby I don't Care |
| Jeff Bailey: | Baby I don't care . |
| | |
| --- | --- |
| Kathie Moffett: | I think we deserve a break. |
| Jeff Bailey: | We deserve each other. |