Out of Time
(2003)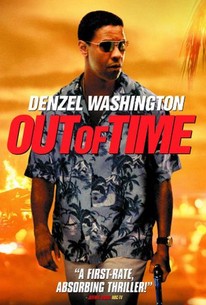 Movie Info
Director Carl Franklin and actor Denzel Washington team up again (following 1995's Devil in a Blue Dress) for the crime thriller Out of Time. Washington stars as Matt Lee Whitlock, the well-respected chief of police in a quiet Florida community. While in the process of getting a divorce from fellow detective Alexandra (Eva Mendez), Matt engages in an affair with his high school sweetheart Anne (Sanaa Lathan). Unfortunately, Anne is married to the extremely jealous Chris (Dean Cain), a former pro football player who works as a security guard. After a major murder occurs in the community, Matt finds himself the main suspect. With the help of his medical examiner pal Chae (John Billingsley), Matt must solve the case before he is found guilty himself. Out of Time premiered at the 2003 Toronto Film Festival.
Critic Reviews for Out of Time
Audience Reviews for Out of Time
A refreshingly great storyline and surprisingly a great Thriller for one of the lesser known Denzel Washington films. The pressure felt by the main character in the movie is portrayed well and felt throughout and provided a constant feeling of frustration of 'if only you'd just ....' Very enjoyable, a great understated Trhiller.
Lady D'arbanville
Super Reviewer
just suppose everything you knew,everything you trusted,became a lie. For Matt Lee Whitlock,(denzil washington) that nightmare has become a reality. when Banyan Key is shocked by a double homicide, Matt starts his investigation,and as details of the case begin to surface, all of the evidence seems to point to Matt as the prime suspect. its really a race against time for matt to solve the murder,before others start to uncover the clues and point the finger at him. love denzil he is one of my fave actors~! i enjoyed this flim
Denzel wearing a Hawaiian shirt for 1.7 hours amongst fine woman and Dean Cain! I must chastise the filmmaker for not including "Out of Touch" by Hall and Oates in the opening or closing credits, would have been perfect. "You're out of touch, I'm OUT OF TIME", that's chocolate icing.
Lenny Muggsy
Super Reviewer
Out of Time Quotes
| | |
| --- | --- |
| Chae: | A beer in the hand is worth two in the fridge. |
| | |
| --- | --- |
| Chae: | You're like the love child of Barney Fife and Joe Friday. |