Outbreak
(1995)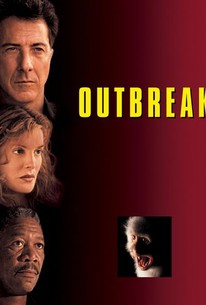 TOMATOMETER
AUDIENCE SCORE
Critic Consensus: A frustratingly uneven all-star disaster drama, Outbreak ultimately proves only mildly contagious and leaves few lasting side effects.
Movie Info
A handful of scientists struggle to prevent the destruction of a small town -- and possibly the entire country -- in this suspense drama. In the mid-1960s, a deadly virus is discovered in Zaire that wipes out an entire village in 24 hours. Government researchers are brought in to investigate, but the military opts to destroy the village rather than risk further infection. Thirty years later, Sam Daniels (Dustin Hoffman), an expert on contagious diseases, is called in when the virus re-emerges in Africa. A monkey carrying the bug is smuggled into the U.S., and a suburban California town soon begins to succumb to the illness. Sam scrambles to find an antidote with the help of his ex-wife Robby (Rene Russo), a Center for Disease Control researcher, and their colleague Casey (Kevin Spacey), while Gen. McClintock (Donald Sutherland) has his own reasons for wanting to use bombs to contain the epidemic, and Army surgeon Gen. Ford (Morgan Freeman) is caught in the middle. Outbreak was produced in the hopes of beating the film version of Richard Preston's bestseller The Hot Zone (about a real-life epidemic) into theaters; script problems shelved The Hot Zone, and Outbreak had the infectious disease market to itself. ~ Mark Deming, Rovi
News & Interviews for Outbreak
Critic Reviews for Outbreak
Audience Reviews for Outbreak
Haunting, exciting and so much better than you'd first believe. What's even more astounding though, is the impressive number of crème de la crème actors found within the cast. With huge stars like Morgan Freeman, Dustin Hoffman, Donald Sutherland and Kevin Spacey, it certainly takes the trophy for one of the best ensembles ever assembled in Hollywood history. Script-wise it may not offer anything special, but it's got such perfect pacing and amazing suspense, that any blemishes in the dialogue are easily forgiven. It also helps that I'm a big fan of these type of "disaster movies", which were so wonderfully frequent during the 90's. This is actually the fourth time I've watched this film, but the first time I've written a review on it. And it wouldn't surprise me if I see it again in a couple of years or so. Because there's an excess of movie magic in here that is always worth coming back to.
Sam Daniels: If one of them have it then ten of them will have it and if one of them leave Cedar Creek then we're in deep fucking shit... we're already in deep fucking shit!  "Try to remain calm." In Outbreak, a phenomenal cast brings to life a horrific situation. There is a airborne virus that has made its way into the United States. As of now, it remains in one city, but if anybody who has it gets out, the whole country could be at jeopardy. Now it is the job of agencies, doctors and the military to keep it all under control at any cost.  Like a lot of these movies, there's a bad guy that is on America's side. So now everyone who has to fight off the disease, also has to stop him from carrying out his plan. This gives the movie some extra intrigue, but also some really predictable situations. As suspenseful as the movie is, it could have been much more. Good thing the situation is actually realistic and highly terrifying, so no matter what there is always going to be a sense of suspense.  There are a lot of these types of movies out there. Just this year Black Death and Contagion were released. This is one of the more entertaining ones I have seen and it is actually quite well done. Sure it has its problems; predictability being number 1, but it ridiculously entertaining. A lot of the entertainment comes from a huge and big names cast. The cast features Dustin Hoffman, Rene Russo, Cuba Gooding Jr., Morgan Freeman, Kevin Spacey and Donald Sutherland. Yeah, that's pretty damn good. It isn't as awesome is it could have been. It could have been scarier and it could have been much better. But for its genre, it is a definite standout. Now I need to see Contagion.
Melvin White
Super Reviewer
This exciting epidemic thriller has quite a lot to offer: an outstanding cast of great names, great cinematography by Ballhaus and direction by Petersen and a thrilling plot that doesn't leave you much space to catch your breath, even has quite a few decent action scenes to offer. There may be logic flaws and plot holes, but it all flows so perfectly and entertains so well, that you don't really notice until later viewings. Especially the showdown makes you squirm in your seat and sends shivers down your spine. Great entertainment.
Outbreak Quotes
There are no approved quotes yet for this movie.