Outcast
(2010)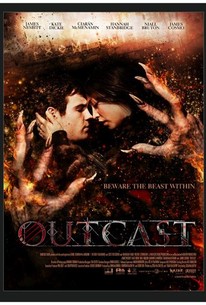 Movie Info
Love and family loyalties square off against dark forces in this thriller from British director Colm McCarthy. Mary (Kate Dickie) and her son Fergal (Niall Bruton) arrive in a small town in Scotland looking for a place to stay. Mary and Fergal tend not to live in one place for long, and not without reason -- Mary is part of a clan who practice a special brand of magic, and she's constantly on the run from rivals who believe Fergal has unusual talents they'd like to exploit. As Mary and Fergal settle into their shabby new home, a man named Cathal (James Nesbitt) arrives in the village; he's looking for Mary and has the talents to defeat Mary in a battle of witchcraft. But as Mary and Fergal try to outrun and outwit their pursuer, Fergal has fallen in love with Petronella (Hanna Stanbridge), a pretty girl who may have some secrets of her own. Outcast received its world premiere at the 2010 South by Southwest Film Festival. ~ Mark Deming, Rovi
Critic Reviews for Outcast
Audience Reviews for Outcast
In "Outcast," Cathal(James Nesbitt) has struck a deal to get powerful tattoos for his hunt, along with assistance and guidance from Liam(Ciaran McMenamin) but the laird(James Cosmo) draws the line at talking to the dead. Meanwhile, Mary(Kate Dickie) decorates the new apartment she shares with her teenage son Fergal(Niall Bruton) with sigils that include some of her own blood. As a protective mother, she warns him about the dangers of the opposite sex but to no avail when he meets Petronella(Hanna Stanbridge) and her brother Tomatsk(Josh Whitelaw) before being introduced to Ally(Karen Gillan) at the swings. Yes, yes, I know you have been down the path of supernatural hormonal teenagers plenty of times before but "Outcast" overcomes that tired old formula, not only due to the quality performances of its leads, but also because of its creepy atmosphere.(There is some gore here for those interested in that sort of thing.) In fact, the magic and the reality of the council estates provide a neat juxtaposition, in showing how much has been forgotten over the years and just lurking beneath the surface. Another way of looking at this setting is as a trap for young people, as apparently there are an endless amount of ways for parents to screw up their kids.
I'd have to say that this movie is pretty good overall. I think it's got an unique approach to its story and a visual style that helps set the mood perfectly. You can sense that a lot of work was put into this so, to me, this doesn't feel like the standard horror fare. But at the same time there's something underwhelming about the entire movie. It's never bad, but I think the movie gets a confusing when it's trying to explain backstory or how the powers these "people" have work. You never really have any idea what's going on in these scenes, because they never clearly explain what's going so you have to guess most of the times. There's a good idea here with Fergal being so fed up with living a sheltered life that he does the one thing that puts him in more danger than he already is. But, again, there's not much complexity to these parts either, perhaps it's because the actor playing Fergal isn't necessarily great. The acting is strong, but mostly the veteran actors like James Nesbitt and Kate Dickie do a great job at their roles. It's kind of a shame, as mentioned, that the movie pales in comparison to the other, and better, parts of the film. I think this could've been something special if the script was a little bit more explanatory than it was. It just felt like everything else got more attention than what is ultimately the most important part of the movie, the script. But, even with all that, I still think it's a pretty good movie with some good ideas, a good visual style and good atmosphere that's lessened by a confusing script.
Jesse Ortega
Super Reviewer
½
*** out of **** Colm McCarthy's "Outcast" is a great film moonlighting as a pretty good one. It's bloody, creepy, ambitious, and surprisingly engaging; throughout, you get the feeling that it could have been a much better film than it ended up being, but nevertheless you also stop to admire the skill and craft exercised in its making. To say that I didn't like this movie would be the same as saying that I don't like directors toying with intriguing ideas within the unchained boundaries of my beloved horror genre. What do the posters and adverts for the film advertise? A slasher film, a "gorno" flick, perhaps even a werewolf movie; but certainly not what "Outcast" truly is. But this makes its success as an entertaining piece of genre filmmaking even more surprising. It leaps from the darkness and attacks full force, but then again most horror movies do that. The uncanny thing about this one is that it delivers a lot more than just the expected blood, guts, and tense scenes; it also has a moral center, a message, and social commentary to boot. A woman and her son move into an Edinburgh flat. The mother (Kate Dickie) is hiding something. She is anxious, clearly disturbed, and is waking up in the middle of the night to smear strange symbols on the walls of her home. The son (Niall Bruton) seems unaware of what his mother's intentions are, and lives under her control by night and walks his dog by day. One day, while on a walk, he meets a beautiful young woman who lives nearby (Hanna Stanbridge); although if mother has any say in the matter, they won't be meeting with one another for much longer. She forbids her boy from engaging in relationships - friendly or romantic - with women his age; warning him that the fairer sex is dangerous and not to be trusted. She is either obsessive or completely mad; nevertheless, the boy does not heed this warning. Meanwhile, while they live out their depressing lives, a bearded man (Liam Cunningham) hunts the mother and the son and a slimy humanoid being stalks the dark streets at night and preys on the innocent. The characters seem almost nameless at first; but indeed they do make proper identities for themselves as the story progresses. The son is Fergel, the mother Mary, the girlfriend Petronella, and the father Cathal. The strange creature has no name. The story is a perplexing, messy, yet intriguing black pot mixture of Irish mythology, black magic, grotesque monsters, themes of teen angst, and ill-fated crows. It isn't the easiest movie to buy into but if you can dig it, then you'll find that it's more than initially meets the eye. "Outcast" transcends classification; it is not merely a horror film, but also a dark fantasy with some cool thematic elements that more than make up for its shortcomings. This is not a memorable screenplay, and these are not memorable characters; but this is a very thought-provoking picture that (gasp) dares to be different. The setting of the film gives it its edge, and makes it more or less feel unfamiliar. The Edinburgh neighborhoods are grim and their inhabitants are even more so. The handheld camerawork captures such elements quite well; although I can't say that it works effectively otherwise. Sometimes I just wanted McCarthy to put down the fucking camera and observe, if only for just a moment, the little character and story moments that this fascinating tale could have benefited from. It's not annoying to the point where I could not watch it, but I do hope that McCarthy drops this style for his later features. Otherwise, I'm completely fine with it; since the camerawork lends a documentary-esque feel to the film in scenes where this is appropriate. The performances themselves are forgettable with one exception. Kate Dickie is absolutely brilliant as the overly attached mum. With just a glance, she can chill you right to the bone. And the things she does to the women that threaten to enter her precious little boy's life are even more diabolical than the appearance of her aging mug. There are many elements that make the flawed but furiously entertaining film worth seeing, and Dickie's performance is one of them. If you aren't a true horror fanatic, you might not be as forgiving as those who are. But sometimes the biggest surprises of the year come from the independent side of horror, and I'd much rather watch an ambitious film not quite master every one of its ideas than watch something with no "ideas" at all.
Ryan Marshall
Super Reviewer
Outcast Quotes
There are no approved quotes yet for this movie.