Outcast
(2015)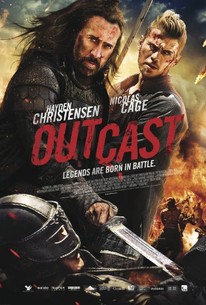 TOMATOMETER
AUDIENCE SCORE
Critic Consensus: Unforgivably dull, Outcast fails to deliver virtually all of the goofy fun that should come from a movie starring Nicolas Cage and Hayden Christensen in ancient China.
Movie Info
When the heir of the Imperial throne becomes the target of an assassination by his despised older brother, the young prince must flee the kingdom and seek protection. His only hope for survival is a reluctant war-weary crusader named Jacob, who must overcome his own personal demons and rally the assistance of a mythical outlaw known as The White Ghost. Together they must fight side by side in an epic battle to return the prince to his rightful place on the throne.
Critic Reviews for Outcast
Audience Reviews for Outcast
Hayden Christensen and Nicolas Cage star in the formulaic action thriller Outcast. The story follows a former knight in search of redemption who comes to the rescue of a deposed Chinese prince. Cage gives one of the worst performances of his career, but Christensen does fairly well. And the fight sequences are pretty good, featuring some impressive choreography. However, the plot is incredibly trite and extremely predictable. A poorly made film, Outcast is a by-the-numbers adventure that's remarkably bland.
Dann Michalski
Super Reviewer
I'll have you know that good money was spent to rent this film, all $1.61 of it, just so I could watch Nicolas Cage act like a fool and make me laugh for 90 minutes. I don't want to say that Nicolas Cage doesn't give a shit 100%. But he's given up any hope of ever being taken seriously as an actor again. Every once in a while he appears in a gem like Joe, which one of his best performances, for real, but I think he's resigned himself to the fact that people just want to see him overact in movies. I think he's gone to the 'I just want a paycheck' phase of his career and this movie is, without a doubt, one of those. The point is that I wanted to see Nicolas Cage. So, color me surprised, when I find out that, in fact, the film is more about Hayden Christensen's character than Nicolas Cage's. In fact, after Cage's appearance at the beginning, he's incommunicado for 50+ minutes. So we have to deal with Hayden's equally terrible acting that isn't as entertaining as Nic Cage would've been in the same spot. Because at least Cage, when you least expect it, would throw in one of his Cage-isms in order to keep you on edge or at least get a laugh out of you. To be fair, I shouldn't single out just Hayden for his bad acting, but he still does have the charisma of a tree stump, because the entire cast was terrible here. There was not one good actor around, in my opinion. Part of that is the ridiculously terrible dialogue that is given to them. None of them would've looked good regardless. But I still think the acting was slightly below my expectations. Not much, just slightly. As far as a low-budget action movie goes, this isn't as bad as actually filming in China, where the film takes place, instead of filming at a closer (and cheaper) place to home and, hoping, that your set designers can make it look like a Chinese dynasty. So no complaints on that regard. The film does look like crap though. I rented the standard DVD version and it was no good. There wasn't a Blu-Ray version available for rental, and I wouldn't have rented it even if there was one. The editing of the action scenes is absolutely horrendous. This is another way how The Raid (both installments) have spoiled me rotten. The editing is so smooth, crisp and fast-paced that you don't notice the cuts at any point. This, clearly, isn't that, and I wouldn't have ever expected it to be, but I was hoping for something a little bit better. Nicolas Cage could've been this film's saving grace and while he did give us some Cage-y moments, it's like they purposely toned down his character's importance in the story in the hopes that you'd enjoy the other stuff the film had to offer. And I guess that's admirable. But if anyone, much like me, is renting this movie, it's because of Nicolas Cage and his entertaining overacting. Let's just be honest. He's probably the reason the film got, partly, funded on this side of the world. This an American/Chinese/Canadian production and Cage's name would mean more on this side of the world. So, in North America, the only people paying to watch this are people that want to see Cage act like a dumbass. And you didn't give them that. So thumbs way down for that. With that said, this isn't nearly the worst action film I've ever seen. I know what I was watching. And this film didn't have any pretensions of grandeur. At least it knew its place. I would say that Transformers 2 is, actively, more terrible than this movie could ever hope to be that it's not even funny. With that said, I still thought this was a really bad movie. If you're watching because you want some Cage in your life, and let's be honest, that describes 99% of you, then you can avoid this because you will be disappointed. Can't really recommend it to anyone else. It's an action movie in a land of 10,000 similar action movies. And it's a step below, at least, 80% of that. This will fade into obscurity, if it hasn't already, very soon.
Jesse Ortega
Super Reviewer
So hilariously awful, this should be its own genre. The entertainment value on this film is through the roof though (what else can you expect from a film where Nicolas Cage has a Scottish accent?).
Stephen Skudlarek
Super Reviewer
Outcast Quotes
There are no approved quotes yet for this movie.