Outlander
(2009)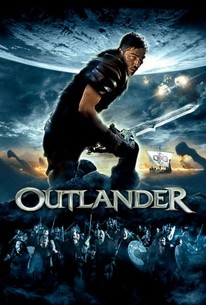 TOMATOMETER
AUDIENCE SCORE
Critic Consensus: Schizophrenic in subject and lackluster in execution, Outlander might have trouble finding the cult audience for which it was built.
Movie Info
When an extraterrestrial spaceship comes crashing down to Earth during the reign of the Vikings, the Scandinavian plunderers get set to do battle with a most unusual enemy in director Howard McCain's earthbound science fiction thriller. Jim Caviezel, Jack Huston, and Sophia Myles star in a film scripted by director McCain in collaboration with screenwriter Dirk Blackman. ~ Jason Buchanan, Rovi
Critic Reviews for Outlander
Audience Reviews for Outlander
Taking a strong lead from 'Alien 3' and 'The Relic' methinks with this one, quite a good action flick none the less but it starts out quite drab and lifeless with little on offer. The cast is lifted with the presence of Hurt and Caviezel is strong as the hero but the rest of the cast can't really compare and come across rather cliched and unoriginal. Its an odd plot really as it appears to be set way back in time as the hero from another planet crash lands on earth in the year 709AD amongst viking warriors?! Once you overcome that subplot you get a kind of 'Pathfinder' meets 'Highlander' romp which slowly melts into 'The Relic' with a large beastie that moves and see's much like a Giger Alien from 'Alien 3'. One such scene in the caves towards the finale is pretty much a dead ringer for the corridor sequences in Alien 3. Quite a bit of blood n gore as viking males get torn apart by a reasonable looking alien creature, kinda like a large neon lion with more teeth. Effects are standard CGI fare and nothing special but the flashback sequence to Caviezel's home world is a nice looking animation. Not bad, good fun with a few flaws and oddities like why the viking folk don't seem too surprised by the strangely dressed short haired stranger in their midst. And why Caviezel's alien species appears to be completely identical to the human race, I guess it could happen perhaps. Its a decent sci-fi/period/monster flick which is worthy of a viewing despite being a complete rip off of various other better sci-fi movies.
Phil Hubbs
Super Reviewer
A technologically advanced race crash lands in Norway in the time of the Vikings and the survivor must make his way amongst that notoriously bloodthirsty lot, but that's not the big problem. The big problem was that the ship carried a voracious badass predator beastie from another world and now its loose. An interesting low tech sci-fi with Viking style blood and guts and viscera.
Kevin M. Williams
Super Reviewer
An alien spaceship crash lands in 8th century Norway where the surviving passenger Jim Caviezel must join forces with the local inhabitants to destroy a vicious monster he unwittingly brought with him. Alien 3 gets medieval on our asses in this deeply silly variation on Beowulf. The idea of Vikings vs aliens seems pretty irresistable (hey, I liked Reign Of Fire...) and these kind of daft sci-fi B movies can be great fun if done with self awareness and a sense of humour. Unfortunately Outlander has neither. Caviezel's so-called character is sketched purely in the form of clumsy flashbacks to the ubiquitous murdered family, and in the land of the Vikings he finds a fiery princess to impress, an orphaned boy to adopt and a local warrior to butt heads and bond with while they hunt down the inevitably computer generated beast. The fact that he is from outer space is pretty much ignored and virtually irrelevant to the cliche riddled plot and the feeble attempt at providing depth and moralisation goes nowhere. Quite why Caviezel, Perlman and especially John Hurt got involved with this straight to DVD standard tosh is a mystery; if I ever meet him I will be torn between shaking his hand for a lifetime of cinematic achievement and demanding two hours of my life back for duping me into sitting through this steaming pile of Norse manure.
Outlander Quotes
There are no approved quotes yet for this movie.