Outlaw
(2007)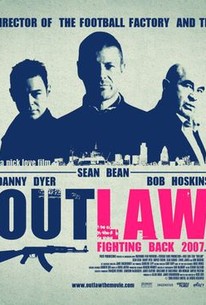 Movie Info
London: present day. In lawless streets the guilty are left unhindered to go about their business. Returning from a tour of duty in Iraq, former paratrooper Bryant is appalled by what he sees in a country he no longer recognizes. Determined to do something about it, he assembles a group of like minded souls who resolve to restore the balance between right and wrong, good and evil--enforcing justice with a brutality to match that of the once unpunished, unsuspecting wrongdoers. But when the law of the land is co-opted in this way, who decides when enough is enough?
News & Interviews for Outlaw
Critic Reviews for Outlaw
Audience Reviews for Outlaw
½
British film that basically brings to light what state the country is in these days, how law abiding citizens seem to be let down or failed by the system whilst criminals appear to roam free with little fear of severe punishment. Its a sad fact that the film is pretty accurate with the type violence and youth gang/hoodie culture that this country suffers and the plot behind a small group of men who become vigilantes against the crime is a very satisfying one. The cast is abit mismatched here for my liking really, Bean is perfect for the role with his butch South Yorkshire, manly, grizzled features and heavy accent but other members of the small gang are less effective and not as believeable despite the fact they are suppose to be weak. Dyer is a totally wrong choice in my opinion as he should be hosting something like 'Big Brother' or whatever, simply not good enough even for this small film. In general the film is very engaging and keeps you stuck to the screen wanting to see the bad guys get battered, its this primal vengeance that most English people will feel when watching this film as we all know exactly what its like and what is going on in our city streets everyday and this film exposes and bleeds that fact. Problem is the film loses its stride as things progress more towards major drug dealers and then towards the end gets abit silly with out of hand gun battles against police. Its a shame because you really don't wanna see the good guys get involved against the police, you wanna see them kicking hoodie ass and getting away :)
Phil Hubbs
Super Reviewer
Excellent Film with Sean Bean making the most of his tough guy image. Sean Harris also adds well as the semi psycho whose ending is interesting. A international host of stars in this one of which this movie did not show well in the US, only to our lose. Film is about a group of people who are wronged by the lawless system of England or just wronged by teenage gangs. So they take law in there own hands, which makes for a 5 star movie.
Bruce Bruce
Super Reviewer
Self Justice or vengeance( if you prefer) ended up in Disaster. Great acting, but the plot could have been a tiny bit better. I have to say Sean Bean was Brilliant in his role.
Outlaw Quotes
There are no approved quotes yet for this movie.