Outpost
(2007)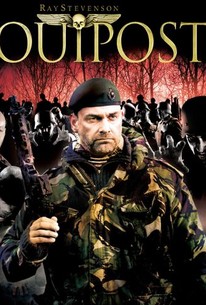 AUDIENCE SCORE
Critic Consensus: No consensus yet.
Movie Info
A wealthy businessman hires a crack team of seasoned soldiers to accompany him on a perilous journey into no man's land, only to come face to face with an otherworldly enemy more vicious and powerful than any mortal foe. It was supposed to be an easy, forty-eight hour mission: Move in, scope out an abandoned military bunker, and move out. Once in the bunker, however, the fearless mercenaries begin to quake in their boots after happening across the remnants of some gruesome World War II experiments carried out by Nazi soldiers on their own men. Sifting through the carnage, the men are horrified to discover that one of the unfortunate test subjects is still clinging to life. Now, as bombs continue to burst above ground, a malevolent force emerges from the darkness below. Suddenly left with nowhere to run, the soldiers quickly realize that what appeared to be a by-the-books bodyguard mission has suddenly devolved into a bloody battle for survival. Why has their secretive host really brought them to this God-forsaken outpost, and is there any way of stopping the murderous force that hunts them from the dense shadows underground?
Critic Reviews for Outpost
All Critics (3) | Fresh (1) | Rotten (2) | DVD (2)
It's a commercial attempt to pull in some coin during the popular zombie craze sweeping the world of cinema.
Outpost is exactly what a horror film should be - while also commenting on a whole history of human barbarity and conflict that seems doomed forever to repeat itself.
...it eventually becomes clear that the entire opening hour could've easily been compressed into a tightly-wound 15-minute chunk.
Audience Reviews for Outpost
Outpost manages to standout as a terrifying, engaging and riveting horror film because the use of a simple idea, small cast and good gore effects are key to creating riveting and truly worthwhile entertainment for the ever demanding horror fan. I'll go right out and say it, this film isn't great, but it's a fun, low budget film that definitely should be seen by genre enthusiasts. The cast is headed by Ray Stevenson, who I quite enjoy, as he is an interesting choice of action star, an actor who I find to be underrated, and much more deserving of praise, because he has skill to entice action fans, yet he has powerful, charismatic on-screen presence that is not excellent, but works quite well considering the big name "action" stars that try far too hard. Anyhow, he's good at what he does, and here he's perfect for the role he plays. Outpost is horror the way it should be, and it's a film that should find a bigger audience in the years to come, as it's really an interesting, thrilling, gory film that has many elements that will be cherished by genre fans. This film, add nothing new to the genre, doesn't reinvent the rules, break new ground or anything like that, but what it does however is create an atmosphere of dread, fear, and nail biting horror sci fi action that is simply hard to ignore. This is not perfect, but it's a film that is hard to ignore when the concept, execution and chaos is hard to ignore. This is simply a lot of fun, and is sure to be a cult hit with a large following of fans in many years to come.
Very good atmospheric tale about ghostly Nazi super-soldiers terrorizing a group of modern day mercenaries who are holed-up in an underground bunker. Has a nice mix of gore, action and chills. Recommended!
It started with great potential but overall starts to fade in the final third. Not bad by all means for a low budget indie horror. At first I thought it might be a take on of Dog Soldiers but with a Nazi zombie twist.....but it's most ghostly to be honest. A fair bit of gore and creepy atmosphere in the dark bunker at the start would have been a great setting if the story was a little better. Try out the Norwegian film Dead Snow, for a fun horror comedy on a similar plot.
Outpost Quotes
There are no approved quotes yet for this movie.