Outpost: Black Sun
(2012)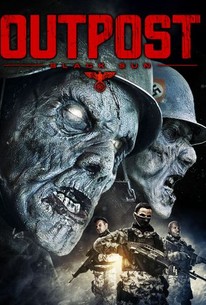 Outpost: Black Sun Photos
Movie Info
As a rapidly-growing army of Nazi zombies gain an advantage over the military unit dispatched to eliminate the undead threat, two investigators team up with an elite Special Forces Unit to slip behind enemy lines and destroy the hi tech device that heralds the rise of the 4th Reich.
Critic Reviews for Outpost: Black Sun
Audience Reviews for Outpost: Black Sun
Second effort from the entertaining Outpost gives a more detailed plot than the original, yet retains the same ingredients that made the first one well worth seeing. The cast do a good job in their respective roles, and the script is fairly tightly written with plenty of intricate passages to make things quite interesting for the viewer. As a Sci Fi horror film, OutPost: Black Sun works well enough even if it doesn't do anything to elevate the series to new heights of excitement. The norm here is good, and it is a skillfully crafted sequel to an otherwise quite simple first film. What stands out again is the gore and outright gore splatter fest that ensues. This is a must for gore hounds everywhere, and it's a film is just as entertaining as the first picture. Outpost: Black Sun is far from a great horror film, but for a low budget production, it has more heart than many of big Hollywood rehashes that are simply cash cows to make a quick buck. Films like this deserve attention because the level creativity involved in the making of film is skillfully done so as to attract old and new horror fans. The formula here works, simple idea, thoroughly entertaining, and that's how the genre should really. The emphasis on pure shocks and thrills in this follow-up make this a riveting horror yarn that should delight traditional horror hounds that crave something different and in a way it's nothing new either, but the way the material is tackled well enough to grab your attention, makes you not care about the films
½
[img]http://ts3.mm.bing.net/th?id=H.4860911895577758&pid=15.1&H=160&W=108[/img] I really don't know how to start this review... just saying "DUMM" and you can stop reading here, or keep telling you to stay way of this monstrosity of a movie written by Steve Barker and Rae Brunton and directed by Barker. A ridiculous story happening in 1945, at the closing stages of WW2, when a German scientist starts creating immortal Nazi army. Back in 2008 we received the first Outpost, four years later this second Outpost, and the story takes place after the events of the first film, as we follow a young female war-criminal investigator that's hot on the trail of a man long-believed dead named Klausener. This is too much writing already - I don't want to waste any seconds on this movie - I already wasted all the time watching it. Miserable acting by Richard Coyle, Clive Russell, Michael Byrne, Catherine Steadman and Julian Wadham - I really wonder how did they get their jobs?!
Outpost: Black Sun Quotes
There are no approved quotes yet for this movie.