Outside Providence
(1999)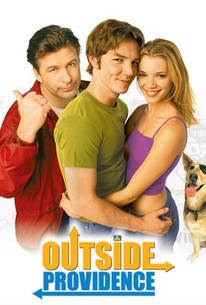 Outside Providence Photos
Movie Info
Based on a novel by Peter Farrelly, published in 1988 before he became famous as a writer and director of such films as Dumb and Dumber, Kingpin, and There's Something About Mary, Outside Providence is a coming-of-age story set in the 1970s. Timothy Dunphy (Shawn Hatosy), known as Dunph to his friends and Dildo to others, is a high school burn-out with a gift for getting into trouble; it doesn't help that his best friend is named Drugs Delaney (Jon Abrahams), and it somehow makes sense that Dunph's pet would be a three-legged dog with one eye. Dunph's father (Alec Baldwin) is convinced his son is on the fast track to Palookaville, so when Timothy gets in a wreck with a police car, his dad pulls a few strings and enrolls him in a private prep school. Dunph quickly learns the biggest difference between his old friends at home and his new classmates: rich kids have money, and money buys privilege. They can buy drugs from expensive dealers who won't fink on them, and pay for abortions when their girlfriends get unexpectedly pregnant, instead of having to get married. Dunph doesn't entirely fit into a school full of rich kids, but when he falls in love with Jane Weston (Amy Smart), he's determined to win her heart. Peter Farrelly adapted his novel with the help of his brother and screenwriting partner Bobby Farrelly and director Michael Corrente, whose previous credits include the film version of David Mamet's American Buffalo.
Critic Reviews for Outside Providence
Audience Reviews for Outside Providence
Timothy Dunphy: Brown University? They got one of those in Providence! "There once was a kid from Pawtucket..." I was pleasantly surprised by Outside Providence. It wasn't a movie that looked or sounded all that interesting to me, but my boredom soon got the best of me and I gave it a look. There's nothing all that smart going on with the filmmaking. The story is breaking new ground, the acting is just average, and the dialogue works sometimes and other times it doesn't. With all that said, I still enjoyed the film for the most part. After a night of partying, Tim(nicknamed Dildo by his father) and his friends are driving home when they crash into a parked police car. His father is angry, angry enough to send him away to a prep school. Upon arrival there, he clashes with the headmaster and begins to be labeled as the stupid, trouble maker. He also meets a girl who he begins to romance. Basically the movie is a lot of smoking weed and drinking surrounded by some drifting, school scenes, and family sequences. The films writing is a bit weak to say the least. It doesn't seem that well thought out, but in the end, it gets there; even if just barely. Outside Providence is worth a look for the 70's teenage partying culture(if you're into it), but it isn't a movie I would say needs to be watched. If you stumble across it one day though, give it a shot.
Melvin White
Super Reviewer
Cool story - slice of life film. Set in the 70's. Written by one of the Farrely Bros, but not directed. Kick ass soundtrack.
Sean Gillespie
Super Reviewer
Nothing special, yet still enjoyable.
James Alvarez
Super Reviewer
Outside Providence Quotes
| | |
| --- | --- |
| Old Man Dunphy: | Making sex is like Chinese dinner--it ain't over til you both get your cookies. |
| | |
| --- | --- |
| Old Man Dunphy: | It isn't easy being Ozzie without a Harriet. |
| | |
| --- | --- |
| Timothy Dunphy: | Prep school? What's a prep school? |
| Old Man Dunphy: | It's to prepare you....for not getting your neck broke..by me. |