Over Your Cities Grass Will Grow
(2011)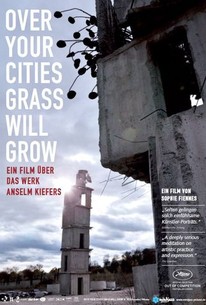 Over Your Cities Grass Will Grow Photos
Movie Info
Sophie Fiennes records Anselm Kiefer, as the 65-year-old world-renowned artist creates a spectacular architectonic landscape. "In 1993 (Kiefer) left his native Germany and settled in Barjac in France, where he bought a derelict silk factory, transforming it into an extraordinary artistic centre... at once the place where his paintings and sculptures are housed and displayed, and a colossal, evolving architectural artwork in itself. Fiennes begins by roaming through the tunnels and corridors of his studio-network: huge, disorienting shapes and forms loom, composed of earth and mud. There are giant, organic pillars, like stalagmites or termite mounds, a visual or conceptual rhyme to the towers built outside... Fiennes's emphases are almost abstract: color, light, texture, form - and to these, she adds sound, using the music of Jörg Widmann and György Ligeti. Anselm's studio is a place where real, hard work is going on: smelting, sawing and hammering... His artistry looks as if it could be taking place centuries ago, and yet it feels very modern... A deeply serious meditation on artistic practice and expression." - Peter Bradshaw, The Guardian (UK) --(C) Alive Mind
Cast
News & Interviews for Over Your Cities Grass Will Grow
Critic Reviews for Over Your Cities Grass Will Grow
Audience Reviews for Over Your Cities Grass Will Grow
½
If you have ever wanted to see a documentary about paint drying, then check out "Over Your Cities Grass will Grow." Otherwise, do yourself a favor and steer clear.
Strange, modernist artist Anselm Kiefer gets a strange modernist documentary in this abstract appreciation of his work in an abandoned silk factory in Barjac, France. Like something out of a post-apocalyptic landscape, his work rises up like derelict buildings from the ashes. Mostly observational, but also incredibly dry, the film alternates between beautiful tracking shots and aimless moments of languid tedium.
Matthew Lucas
Super Reviewer
Over Your Cities Grass Will Grow Quotes
There are no approved quotes yet for this movie.