Overboard
(1987)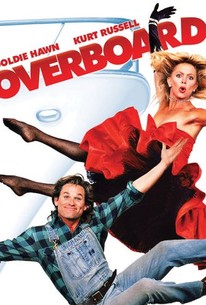 TOMATOMETER
AUDIENCE SCORE
Critic Consensus: Goldie Hawn and Kurt Russell's comedic chops elevate waterlogged material, but not even their buoyant chemistry can keep Overboard's creepy concept afloat.
Movie Info
Snobbish heiress Joanna Stayton hires carpenter Dean Proffitt to construct a huge closet on her yacht for her lavish wardrobe. Dean completes the project, but when Joanna learns that he failed to use cedar as she wished, she refuses to pay him for the job. Some time later, Joanna falls overboard and is struck by a boat, giving her a case of amnesia. When Dean sees the story on the news, he concocts a scheme to pretend that she is his wife, Annie. Believing that she is Annie, Joanna moves in with Dean and becomes mother to his four unruly boys, a role for which she is quite unprepared and totally inept.
Critic Reviews for Overboard
Audience Reviews for Overboard
½
Amazing, an 80's movie I haven't seen. Hmmm... it was okay. I'm not sure what message it was trying to get across. It is too extreme both ways - being rich doesn't have to mean that stuck up and awful, and being poor doesn't necessarily equate to living like an animal. Honestly I couldn't see why either of those lives would appeal and I don't buy the ending for a second. Living with a pig who lied his way into her life and got her to sleep with him on false pretenses and don't even get me started on those horrible four little boys. The end line made me vomit a bit too. Whatever. It's a dumb comedy. Okay to watch once.
Nicki Marie
Super Reviewer
One of the most tried and true of the screwball comedy formulas: uptown girl, downtown guy, together temporarily and hating it. 90 minutes later its wedding bells. Roll credits. Entirely dependent on the charisma of the leads. Russell and Hawn supply the goods in what only can be described as a guilty pleasure. Garry Marshall directs the predictable proceedings.
Kevin M. Williams
Super Reviewer
I did not buy the romance, and the plot points were so farcical this film was almost unwatchable. Is this seriously your favorite film,. Reese Witherspoon?
Jennifer Xu
Super Reviewer
Overboard Quotes
| | |
| --- | --- |
| Joanna Stayton/"Annie Proffitt": | Oh, and give my regards to Schwartzman and Heineken! |
| | |
| --- | --- |
| Dr. Norman Korman: | You're overwrought, Grant. I want you to take a Valium. Here, take one of mine. |
| | |
| --- | --- |
| Cop at Hospital: | Yeah, I bought my wife a garter at a yard sale once too. |
| | |
| --- | --- |
| Dean Proffitt Carpenter: | Well, I guess we better send the ol' ball and chain out to buy us more. |