Overdrawn at the Memory Bank
(1983)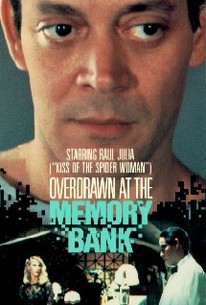 Overdrawn at the Memory Bank Photos
Movie Info
In this futuristic adventure, a man gets too enmeshed in virtual reality and ends up with his personality melded to the on-screen persona of Humphrey Bogart.
Critic Reviews for Overdrawn at the Memory Bank
Audience Reviews for Overdrawn at the Memory Bank
Although I loved seeing Julia play the lead in this movie, and he tried his best, this movie didn't deserve him. The story is bad, the special effects are bad, and it's weird and confusing. It's not a good movie.
FINGALLLL, YOU ARE MINE!...with bernay sauce! How to best describe OATMB?...hmm, well, imagine yourself in the ninth circle of hell, or in an alternate reality where Blade Runner was directed by Coleman Francis. The result is an hour and twenty-four minute mobius strip debacle that tries to mask its microscopic plot points with loads of techno-babble in a futile attempt at padding out the run time. If an entire film could be pre-washed in dramamine, this would be it. That being said, this is easily one of the great, bad sci-fi movies of all time. Every ingredient is present: a lard laden villain. A bony romantic interest who sits and stares at a computer screen the entire film. Demented children. Raul Julia. A hysterical nurse who cries for five minutes about some thing happening to some guy. AND not MUCH MORE! Enjoy.
Brett Warren
Super Reviewer
Overdrawn at the Memory Bank Quotes
There are no approved quotes yet for this movie.