The Ox-Bow Incident
(1943)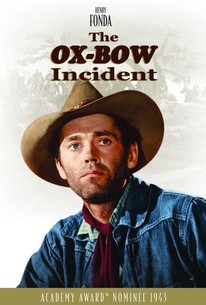 The Ox-Bow Incident Photos
Movie Info
This fact-based western stars Henry Fonda and Harry Morgan as drifters who attempt to stop a lynching of three men accused of the murder of a rancher. William Wellman's study of mob mentality is universally acclaimed as one of the classics of the western genre.
Critic Reviews for The Ox-Bow Incident
Audience Reviews for The Ox-Bow Incident
A lynch mob accuses three men of murder, but evidence mounts that they may be innocent. This is one of those few films in which the most interesting character is in a supporting role. Why does Tetley so vehemently pursue the mob's version of justice? I read an article in Philosophy and the Western that argued that he is unreasonably committed to following a code of behavior, which elides critical thinking. After seeing the film, I'm inclined to agree. After all, this film is about groupthink and stupidity. It argues that people are often more inclined toward sensationalism and fear than reason, and one of the aspects that makes this film timeless is how readily one can see these tropes playing out in the modern political scene. A young Henry Fonda seems to have a tough job: his character comes off as a hothead at the beginning and stable and level-headed during the second and third acts. Likewise, there are many characters in the mob who are reduced to stereotypes, and considering how important they become to the film's conclusion, I would have liked to have known their motivations. Finally, the Tetley Snr./Tetley Jnr. plot came out of nowhere. Overall, not without its flaws, The Ox-Bow Incident is a Western classic for good reason.
Jim Hunter
Super Reviewer
Henry Fonda, with his roles in The Grapes of Wrath, 12 Angry Men and The Ox Bow Incident, has a tendency to take on roles of the morally just, or at least the role of the "everyman". He always provides the audience with the movie's moral point-of-view. In The Ox-Bow Incident, he, like we, is just an observer. And yet, it's implied that he (like we) is perhaps guilty of standing by and observing when he should have been acting. To be fair, Fonda does all that's morally expected of him, all that would exempt him from guilt of the crime that is committed, but he never ventures into the realm of heroics (when watching a man drown, it's more heroic to throw yourself into harm's way rather than toss a life preserver and hope the victim saves himself). The setting is the old west, where two strangers (Fonda and Harry Morgan) venture into town just as trouble begins to stir. A rancher has been murdered, and a posse is quickly rounded up to find the killer and enact frontier justice. Some ride out with the posse only to ty and get the suspects back to town for a fair trial, while others go only to see a lynching, the two stranger ride along so as not to implicate themselves in the crime. When three suspects are found with circumstantial evidence, there seems little hope they'll see the sunrise, despite the best efforts of the town's few honest men. Leading the charge to vengeance is the retired "Major" Tetley, a former confederate soldier who seems to thrive on authority and the respect his uniform and rank bring him. He's determined to make a man out of his effeminate son Gerald, whom he accuses of being "womanly". This leads to the implication (however subtle) that the Major believes his son is homosexual (whether the character is intended to be or not, remains to be seen), much to his unending shame. His motivation for seeing the accused men hang seems less justice and more "toughening up" his son. The three suspects in question could not appear to be more innocent. One is a family man and cattle rancher, righteously indignant at mentality of the mob which stands before him, another is a feeble-minded old man, brought along out of the kindness of his compatriots, while the third is a highly intellectual mexican gambler (Anthony Quinn) who feigns incomphrehension when questioned (if anything, his guilt is pre-determined by the mob's racist opinions). The question isn't of guilt or innocence, but what one does in the face of injustice. As a morality play, it's one of the best, in that it implicates the viewer just by the act of viewing. It's a great challenge to let the movie go afterwards.
Devon Bott
Super Reviewer
½
Great movie, my only complaint is that it ended. Henry Fonda gave a great performance as did most of the cast. It's a great story about the justice system of the west and how horrible it can be. It's extremely morbid in nature for its time. I was really surprised at how bold the film was.
Conner Rainwater
Super Reviewer
The Ox-Bow Incident Quotes
There are no approved quotes yet for this movie.