P2
(2007)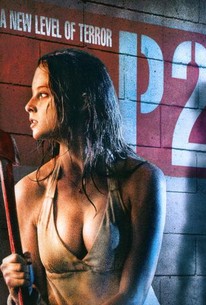 Movie Info
Angela, a corporate climber, gets stuck working late on Christmas Eve and finds herself the target of an unhinged security guard. With no help in sight, the woman must overcome physical and psychological challenges to survive.
Audience Reviews for P2
½
[img]http://images.rottentomatoes.com/images/user/icons/icon13.gif[/img]
Directors Cat
Super Reviewer
The suspense and execution of this cat and mouse thriller is pretty solid, however the most remarkable thing about this piece are Mrs. Rachel Nichols assets (and I don't mean her acting chops)
Ken Stachnik
Super Reviewer
½
"Wait! Why? Why can't we be friends?" First of all, this is definitely not a horror film. It barely qualifies as a thriller. I could tell early on that cleavage was going to be the main reason that I finished watching P2. The villain was definitely crazy, but not dangerous crazy. He gave off a "pathetic, lonely, and probably picked on a lot when he was little" vibe. His dog was much scarier than he was. I have to say that Rachel Nichols' character wasn't quite as stupid as one would expect in this kind of movie, she even actually did appear to be making an effort to save her own life on several occasions. Of course, there are contrived situations that are there solely to provide "suspense" and allow the story to continue (the cab driver leaving; the phone not working inside the parking garage, but it works a few inches past the gate; Rachel stabbing the villain in the shoulder instead of somewhere more damaging, like maybe the NECK). I'd like to think that if I was in her situation, I would have been able to calm myself enough to figure out that simply triggering a fire alarm would probably be a good way to get some help. Rachel Nichols in that dress makes it easier to ignore the plot holes and keep watching, but I don't think anyone would want to spend more than a few dollars for it. As negative as this review may sound, I do think that most movie critics were too hard on P2. I can't really pinpoint exactly why I liked it so much (beyond the aformentioned dress and its effect on Nichols' figure). Maybe it was because Nichols makes her heroine so easy to root for, because Bentley makes his character so creepy pathetic and easy to hate, or because of the novelty of the setting. Or maybe it's simply because the undeniable ridiculousness of it all somehow works in P2's favor.
P2 Quotes
There are no approved quotes yet for this movie.