Pacific Heights
(1990)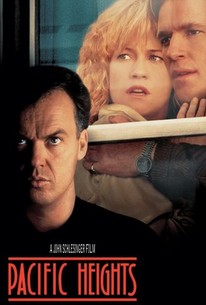 Movie Info
John Schlesinger directed this upscale horror film about a landlord with the ultimate problem tenant. Patty Palmer (Melanie Griffith) and Drake Goodman (Matthew Modine) are a middle class couple who lie on their financial statement in order to buy an old Victorian house in San Francisco, planning to renovate it and rent it out. Unfortunately, they select as a tenant Carter Hayes (Michael Keaton), a psychotic real estate bargain hunter who plans to drive Patty and Drake into foreclosure proceedings and then buy the house cheap. Carter starts the ball rolling by refusing to pay his rent and driving out a couple who had rented the rear flat by hammering and sawing all night -- and then releasing a tidal wave of cockroaches. What follows is a psychological war between Carter and the Yuppie couple, with Carter succeeding not only in provoking Drake into more extreme means of eviction, but also causing a rift between Drake and Patty.
Critic Reviews for Pacific Heights
Audience Reviews for Pacific Heights
There really hadn't been, and hasn't since been, a thriller like "Pacific Heights." It melds horror and thriller seamlessly, casting Michael Keaton as an unhinged tenant who messes with new landlords Patty and Drake (Griffith and Modine). Carter Hayes (Keaton) uses the law as a means to threaten, extort, and pressure his landlords into hurting him, so he can use it against them. Trapped in their so-called home and unable to throw him out, they go crazy, and eventually lose everything they tried to build. Keaton is such a sublime maniac, that every scene he is in makes you uneasy. He's creepy, but in a subtle, predatory kind of way. His eyes always smolder, and you never know whether he's unhinged, or just greedy. The revenge fantasy angle was interesting, and I liked the way it played out, as it amped up the tension even further. The cat and mouse game that Keaton and Griffith play onscreen is tantamount to "Single White Female," but without the obsessive quality to it. I highly recommend this for those who love thrillers and the work of Micheal Keaton.
Spencer S.
Super Reviewer
Having such good films under his belt like "Midnight Cowboy" and "Marathon Man", director John Schlesinger is no slouch when it comes to crafting a quality drama or suspense. However, with an irritatingly underpar cast, this is not one of his finer efforts. Young couple Patty (Melanie Griffith) and Drake (Matthew Modine) purchase a Victorian home in San Francisco. They fix it up and rent one of the apartments to fast-talking businessman Carter Hayes (Michael Keaton) unaware that he is in fact, a sociopathic swindler. When this film was released in 1990, I actually enjoyed it. I was 12 years old. Looking at it now, I have to admit that my critical faculties had not kicked in then. There's no denying that it's a well crafted suspense yarn but it's also ludicrously plotted. The fault doesn't lie with Schlesinger though, in fact, he does really well handling the tension and suspense. The fault lies with the unintelligible script. Would this stereotypically disturbed character really waste his time, being no more than an inconvenience by drilling holes in the walls? Do disturbed sociopaths really sit watching static interference on TV, in a darkened room, while flipping a razor blades over their fingers? Methinks it's all a little melodramatic. Keaton does his best sinister look with animated eyebrows, Modine needs his quiff trimmed and Griffith gives her usual one-note innocent, softly spoken, damsel in distress act. Three very limited actors with a very limited script. Schlesinger brings what he can to the table, but it's not enough to overcome ineptitude. Hitchcock would have had a field day with similiar material. Schlesinger tries his best to emulate the old master but he's ultimately fighting a losing battle with a very limited cast.
Mark Walker
Super Reviewer
A dull thriller with one of the lamest final fight sequence I've ever seen. Even otherwise, the movie sucked in the action department.
familiar stranger
Super Reviewer
Pacific Heights Quotes
| | |
| --- | --- |
| Carter Hayes: | [to Drake] You're a brave and stupid man. |
| Carter Hayes: | You're a brave and stupid man. |