The Pacifier
(2005)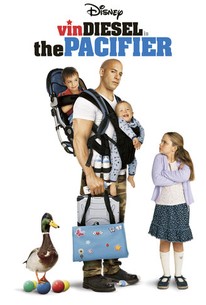 Movie Info
As an elite member of the world's fiercest and most highly trained fighting force, Navy SEAL Shane Wolfe thought he was prepared to take on any duty, no matter how perilous or impossible... until he tried baby-sitting. Assigned to protect the five out-of-control children of an assassinated scientist, who had been working on vital government secrets, Shane is suddenly faced with juggling two outrageously incompatible jobs -- fighting the bad guys and keeping house. Replacing his usual arsenal of wetsuits and weapons with diapers and juice boxes, Shane not only must battle a deceptive enemy but wrangle teen rebel Zoe, sullen 14-year-old Seth, eight-year-old Ninja-wanna-be Lulu, as well as three-year-old Peter and baby Tyler -- not to mention their off-beat Romanian Nanny. He's truly a SEAL out of water, and now it's up to this one-time lone warrior to take on the most important mission of his life: keeping a family together.
News & Interviews for The Pacifier
Critic Reviews for The Pacifier
Audience Reviews for The Pacifier
The Pacifier sucked, it was boring, badly acted, and terrible action, and one of the worst films ever made.
Jim Careter
Super Reviewer
Hysterical. Vin Diesel played a fantastic nanny and it's a nice heartfelt film that will have you smiling from start to finish.
Bethany Murphy
Super Reviewer
The Pacifier Quotes
| | |
| --- | --- |
| Vice Principal Murney: | You mess with the bull, you get the horns. |
| | |
| --- | --- |
| Lulu: | I want you to have this. (Giving family photo) Because I want you to never forget me) |
| Lulu: | I want you to have this. [giving family photo] Because I want you to never forget me. |
| Shane Wolf: | I will never forget you |
| Shane Wolf: | I will never forget you. |
| | |
| --- | --- |
| Lulu: | Why are your boobs so big? |
| Shane Wolf: | They're not boobs! |
| Lulu: | Do you have to wear a bra? |