The Package
(1989)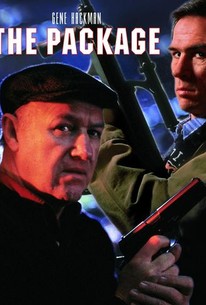 Movie Info
The Package, a thriller involving political assassination and intrigue, is an excellent action feature using a familiar theme and providing good performances by the cast. Boyette (Tommy Lee Jones) is a prisoner entrusted to Gallagher (Gene Hackman) for transportation back to the United States. Boyette escapes and Gallagher must find him. In doing so, Gallagher finds himself getting into far more than he had bargained for as he becomes involved in a political assignation plot that he must stop. Both Hackman and Jones are excellent in reprising familiar roles. Hackman is never better than when portraying the decent man in a precarious position, and Jones plays Boyette with the same cunning and intelligence that he brought to The Executioner's Song. ~ Linda Rasmussen, Rovi
Critic Reviews for The Package
Audience Reviews for The Package
A compelling and enormously satisfying political thriller, About a career officer sergeant Johnny Gallagher played by Gene Hackman in a marvelous performance who thinks he has been assigned a routine mission to escort a rebellious American soldier played by Tommy Lee Jones in a solid performance from Europe to the United States for a military court martial. Gallagher soon learns that the soldier that he brought from Europe, who has just escape from his charged is man with a different identity, he also discovers a sinister military conspiracy involving a deadly assassination plot against the president of the United States at a historic superpower summit. Gallagher must act now before it is too late. Tension and suspense runs high throughout the film thanks the expert scripting by John Bishop and the brilliant direction by Andrew Davis. Tremendous supporting performances by Joanna Cassidy, John Heard, Dennis Franz, and Pam Grier. One terrific movie! Highly Recommended.
Danny Rovira
Super Reviewer
Good conspiracy thriller film that seemed dated even when it came out, with Gene Hackman caught up in a plot on Gorbachev's life.
Dean McKenna
Super Reviewer
The Package Quotes
There are no approved quotes yet for this movie.