Paddington 2
(2018)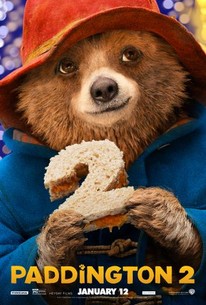 TOMATOMETER
AUDIENCE SCORE
Critic Consensus: Paddington 2 honors its star's rich legacy with a sweet-natured sequel whose adorable visuals are matched by a story perfectly balanced between heartwarming family fare and purely enjoyable all-ages adventure.
Movie Info
PADDINGTON 2 finds Paddington happily settled with the Brown family in Windsor Gardens, where he has become a popular member of the community, spreading joy and marmalade wherever he goes. While searching for the perfect present for his beloved Aunt Lucy's hundredth birthday, Paddington spots a unique pop-up book in Mr. Gruber's antique shop, and embarks upon a series of odd jobs to buy it. But when the book is stolen, it's up to Paddington and the Browns to unmask the thief... Helmed by twice BAFTA nominated director Paul King, PADDINGTON 2 is co-produced by multi award-winning David Heyman / Heyday Films (producer of all eight of the HARRY POTTER films, GRAVITY, THE BOY IN THE STRIPED PYJAMAS, FANTASTIC BEASTS AND WHERE TO FIND THEM) and StudioCanal, who will also distribute in the UK, France, Germany, Australia and New Zealand. PADDINGTON is based on the best-selling and internationally adored series of children's stories by British author Michael Bond, which have sold more than 35 million copies worldwide, been translated into over 40 languages and captured the imagination of children and adults around the globe.
Critic Reviews for Paddington 2
Audience Reviews for Paddington 2
½
Adorable and charming with beautiful production design. Kids should get a real kick out of it, adults should still appreciate the love that went into this and the cast obviously having a great time. The train showdown is almost Mission-Impossible-worthy.
I'm a sucker when it comes to feel-good movies, so please take this review with a grain of salt if those types of films are cheesy to you. When the first Paddington hit theatres a few years ago, I was pleasantly surprised to see that the filmmakers crafted a wonderful family flick for all ages. Yes, the premise is aimed at kids to give them life lessons, but the family aspect is what everyone else could relate to. Paddington 2 has recently hit the big screen and I can confidently say that if you enjoyed watching the first film, then you will equally like this sequel. It's a simple story about friends and family, but it's done in a very loving way that's almost too charming to ignore when you start watching it. Here's why you'll watching Paddington 2 with a smile on your face throughout the entire film if this is your cup of tea. Paddington 2 follows this lovable bear as he has now settled into this town with the Brown family. The public has now accepted this talking bear as one of their own, and he's doing his utmost to get a job and become a true citizen. When trying to stop a jewel thief, he becomes wrapped up in an accusation that eventually has him thrown in prison. Wanting to put an end to this thief and make thing right in terms of showing everyone the truth, Paddington 2 is a showcase of a wrongfully accused being, which is quite relevant for today's climate. The fact that such a large aspect of this film revolves around someone being wrongfully accused is astounding to me, especially when it's a film for kids, first and foremost. Although there's nothing award-worthy about the screenplays for these films, that's not to say they aren't well-written in their own right. For a kids movie, Paddington 2 delivers many surprises in terms of emotion and I found myself in tears in the final few moments. Not only is this movie emotional, but it also delivers quite the exciting final act that almost feels like a chase sequence from a big action film, just on a lower scale. With that said, emotions and excitement aren't the only things putting this movie on the pedestal it deserves, because the characterization of every secondary character shines off the screen as well. Whether this little bear finds himself interacting with inmates at the prison he's being held at or simply conversing with his family when they come to visit, there's just something about the dialogue between characters that feels very authentic. The head chef's relationship with the titular character was easily my favourite portion of this film because he comes off as someone who would kill someone if he was in an R-rated movie, but when placed side-by-side with a younger person, his actions may be slightly different. I loved this aspect of the movie. In the end, everything about the story in Paddington 2 is borrowed from crime films and family films alike. There isn't much else going on here, so your characters and overall execution of the story need to be absolutely perfect in order to impress, and does it ever. There will be far better movies to hit theatres this year, but if you're looking for a movie to make you feel good inside, I honestly can't recommend Paddington 2 enough. There's something about these two films and the way that director Paul King assembles them that just feels necessary to watch. It's a shame these movies don't receive much attention because they truly are great family flicks.
LADDY MARMALADE - My Review of PADDINGTON 2 (5 Stars) Trust me, this comes as much of a surprise to me as it probably does to you, but PADDINGTON 2 is a masterpiece. A sequel to the 2014 film, based on the famous characters created by Michael Bond, it's a film made for children by a major studio, two usual strikes in my book, and not only surpasses the original, but reaches emotional and artistic peaks I didn't think was possible in these cynical, quick buck, "movies are product" times. I'm late to the Paddington universe. I never read the books when I was younger and only caught the original film this past week on Netflix. I loved it, with its popping Wes Anderson-meets-Jeunet/Caro stylized aesthetic and its ability to ooze empathy out of a CGI creation. Mainly, it's great storytelling with great care paid to its marmalade-living title character's feelings. As a comedy, its Rube Goldberg contraption style of slapstick and beautifully written setups and payoffs proved endlessly entertaining, especially every time Paddington would create sheer chaos out of the simplest of situations. I couldn't wait for him to mess up the Brown home again in the sequel. Little did I know that I would experience a true gem of filmmaking craft with genuine laugh out loud moments and a flood of uncontrollable tears. This is movie heaven for people with no guile and big hearts, a rare sequel that will easily rank among the best films of 2018. At its core, PADDINGTON 2, directed by Paul King, who helmed the original and co-wrote with Simon Farnaby, tells the story of an immigrant Peruvian bear who, through sheer goodness, brightens up the lives of his London friends and neighbors, many of them immigrants themselves. Whereas an evil Nicole Kidman provided the drama in the first by wanting to make taxidermy out of our cute little hero, Hugh Grant steps in here as the villainous down-on-his-luck yet still narcissistic actor who hears of a valuable pop-up book from Paddington which he intends to steal. It's just silly enough to not scare the kids, yet it speaks to adults who recognize Grant's level of entitlement as a curse on civilization. Paddington just wants everyone to love life and Grant's Phoenix Buchanan stands in the way. Paddington still lives with the Browns, all of whom get wonderfully fulfilling story arcs here, all with sly setups you can trust will again pay off astutely and at surprising times. Sally Hawkins, who again ends up in the water two films in a row (!), brings so much quirky charm to Mary Brown, and is matched well with Hugh Bonneville's dead-end job Henry and their teen kids Judy, an aspiring journalist, and Jonathan, a closet model train lover who fronts with his new Hip Hop persona. The engine that drives the plot is that pop-up book of London, which Paddington wants to buy for his beloved, aging Aunt Lucy (Imelda Staunton). To earn money to make his purchase, he disastrously tries his hand working at a Barber Shop before moving on to a window washing career. When Phoenix steals the book, the chase begins. All of this is swoopingly shot, exciting and just plain fun to watch. Whether Paddington is struggling with a set of clippers or cleaning windows with his furry butt, he wins your over. It helps that Ben Wishaw voices Paddington with a quiet, sweet dignity, and has the ability to bring people together. Could this be the "kinder, gentler nation" George W. Bush spoke of? If so, I'm in. I don't want to spoil any more of the story, because it's so airtight and so fully satisfying, but I do want to point out a simply stunning sequence in which Paddington fantasizes about taking his Aunt through London via the pop-up book. As they traverse page after page, with transitions so gorgeously realized, traveling from a subway station to Piccadilly Circus, you'll get lost in the glory of discovery. If this section were a short film, it would be immensely satisfying just on its own. King also use space perfectly, giving us a hair-raising scene where Aunt Lucy and Uncle Pastuzo try to save Paddington from the certain death of a waterfall or a breathless underwater scene in which drowning feels like a real possibility. I haven't been this excited by a character trapped in a submerged car since John Travolta saved Nancy Allen in BLOW OUT! King's use of wide shots and close-ups infused with an unexpected depth of feeling truly blew me away. Paddington is one of the most lovable heroes in cinema history. Period. What should appear to be a low stakes entertainment, feels revolutionary in these "shithole" times. PADDINGTON 2 is that rare, big studio film that gets everything right. Minor quibble: I could have done without the gay-baiting musical number in the end credits, which rivals "The French Mistake" scene in BLAZING SADDLES for kinda-sorta making fun of a certain gay stereotype while also kinda-sorta celebrating it. Let's just say it's pink, crazy, and funny, but shouldn't be in a children's film sending the message that gay people are the party clowns you get to laugh at...but I won't deduct any points, because I think its heart is in the right place.
Glenn Gaylord
Super Reviewer
Paddington 2 Quotes
There are no approved quotes yet for this movie.