The Page Turner (La Tourneuse de pages)
(2006)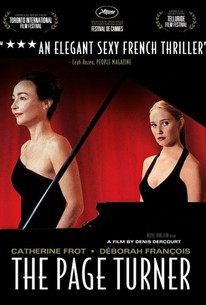 TOMATOMETER
AUDIENCE SCORE
Critic Consensus: Reminiscent of Hitchcock and Chabrol, The Page Turner is elegant yet suspenseful, a revenge potboiler of a high degree.
The Page Turner (La Tourneuse de pages) Photos
Movie Info
Years after her once-promising career as a professional pianist is tragically sidelined, a young musician still haunted by the past receives a second chance at making things right in director Denis Dercourt's elegant tale of shattered dreams and delicate mutual dependence. Upon performing for the examination board in order to gain entrance into the prestigious musical Conservatory, young pianist Mélanie (Julie Richalet) finds her concentration shattered when the chairwoman of the jury - herself a famous concert pianist - carelessly signs an autograph for a fan. Her endless hours of rigorous training suddenly rendered useless by the pass of a pen, Mélanie remains unable to regain her composure after the incident and subsequently gives up music altogether after failing to pass the test. Years later, Mélanie is a file clerk at a well-renowned law firm whose skills soon catch the eye of senior partner M. Fouchécourt (Pascal Greggory). Impressed by her solid work ethic and unwavering dependability, Fouchécourt hires Mélanie as a live-in nanny whose duty it will be to watch over his son during an extended business trip. Upon arriving at Fouchécourt's lavish countryside mansion, Mélanie makes the acquaintance of Mme. Fouchécourt (Catherine Frot) - the very same pianist whose thoughtless action sent Mélanie's life into an irreversible downward spiral. It seems that now the tables have turned, and Mme. Fouchécourt herself has lost the confidence to perform. Her frazzled nerves somehow calmed by the presence of the quiet new helper, Mme. Fouchécourt implores Mélanie to sit in on her recitals and become her personal page turner as she attempts to overcome her debilitating fear of failure. ~ Jason Buchanan, Rovi
Critic Reviews for The Page Turner (La Tourneuse de pages)
Audience Reviews for The Page Turner (La Tourneuse de pages)
½
[font=Century Gothic]In "The Page Turner," Melanie(Deborah Francois) is an intern for a prestigious law firm who volunteers to be a nanny for her boss, Jean(Pascal Greggory), over the holidays. Not coincidentally, he is married to Ariane(Catherine Frot), a classical musician who ten years previously distracted young Melanie(Julie Richalet) at an audition which she failed, vowing never to play again. But she still retains enough musical knowledge to assist Ariane at a radio concert where she is to play as part of a trio...[/font] [font=Century Gothic]"The Page Turner" is a nifty and subtle psychological drama that thankfully pulls its punches and leaves much to the imagination. Melanie is a thoroughly single-minded individual who by the time she is an adult, leads a solitary life with a very pleasant facade. As a child, she was obsessed with the piano; as an adult, it is with the woman she blames for botching her audition. Yes, Ariane was very rude but that is not a good enough reason to carry a grudge all these years. While it may seem easy for Melanie to insinuate herself into the household, it does appear that she has been planning this for a very long time, knowing exactly which buttons to push. Personally, I think Melanie was also behind the hit and run that so unnerved Ariane. [/font]
Though flawed, an effective thriller.
A young girl, Melanie, dreams of becoming a professional musician and finds her hopes shattered in an instant when one of the judges listening to her performance - a famous concert pianist - agrees to sign an autograph, causing her to lose confidence and blow her chance.
Later in life, Melanie (Debroah Francois), now a young woman, exploits an opportunity to exact revenge.
The Page Turner is an icy-cold and expertly mounted tale of revenge, piling on the tension in a lean 85 minutes, mostly eschewing blood in favour of psychological consequences; Melanie slowly builds a relationship and trust with the family she works for before beginning to turn the tables. The finale may lack sensationalism but remains true to the story and the performances from Deborah Francois and Catherine Frot are superb.
Daniel Parsons
Super Reviewer
The Page Turner (La Tourneuse de pages) Quotes
There are no approved quotes yet for this movie.