The Pagemaster
(1994)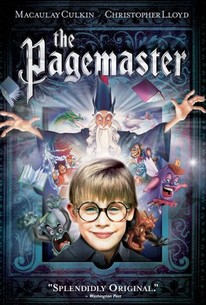 Movie Info
This animated fantasy, featuring Macauly Culkin, opens the world of books to younger viewers. The film begins in live action and quickly switches to animation. Richard is a fearful little boy until an odd librarian sends him on a magical journey into literature where the characters spring to life. He is assisted by pals Adventure, Fantasy, and Horror. To escape from this fantastical world, Richard must reach the "Exit" sign. He is hindered by many literary characters including Long John Silver, Jekyll and Hide, and Captain Ahab.
News & Interviews for The Pagemaster
Critic Reviews for The Pagemaster
Audience Reviews for The Pagemaster
½
All The Adventure Your Imagination Can Hold. Not a great or horrible movie! The beginning of this movie is excellent with tremendous sound and some nice humor, but once the film changes into animation it quickly loses its appeal. However, although this film is mostly disappointing, not all is lost. The story, for all its flaws, wastes no time in getting started, and there is a certain nostalgia surrounding the film for the endless stream of, mostly mediocre, but still harmless, cartoons of the 90s, when computer-generated animation was yet to be exploited. Overall, just not memorable enough or able to compete with the great animated films of the last dozen years. This is the story of a young boy named Richard Tyler, who finds shelter from a storm inside a nearby library. Tyler slips and is knocked unconscious while exploring a rotunda in the library. Upon awakening he is led on a journey through conflicts and events that resemble fictional stories, keeping him from finding the exit from the library.
Kids will like it and the animation is nice, plus some good acting, but overall its not the most memorable animated film made
Michael Edwards
Super Reviewer
A fantastic fantasy adventure for kids. Culkin gets turned into a cartoon and has to find his way back home from the book lands, and find his courage along the way. It's really a cool movie, and kids will love it.