Pain & Gain
(2013)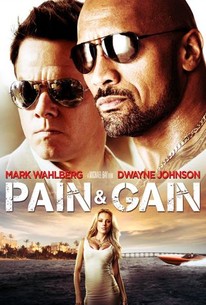 TOMATOMETER
AUDIENCE SCORE
Critic Consensus: It may be his most thought-provoking film to date, but Michael Bay's Pain & Gain ultimately loses its satirical edge in a stylized flurry of violent spectacle.
Movie Info
From acclaimed director Michael Bay comes "Pain and Gain," a new action comedy starring Mark Wahlberg, Dwayne Johnson and Anthony Mackie. Based on the unbelievable true story of a group of personal trainers in 1990s Miami who, in pursuit of the American Dream, get caught up in a criminal enterprise that goes horribly wrong. (c) Official Site
News & Interviews for Pain & Gain
Critic Reviews for Pain & Gain
Audience Reviews for Pain & Gain
"Pain and Gain" isn't just another in a long line of Michael Bay films that "cinephiles" can point to as proof positive that cinema is dying. It's a cutting, dark satire about the search for the American dream and how such a preposterous ideal can be dangerous (even deadly) in the psyche of the more sense-deficient. It has a brain, and Bay's bloated style and vivid cinematography add too the tone of this ridiculous true crime saga. Wahlberg and Mackie aptly portray two of a rag-tag band of idiots, but they exude a sensitivity and self consciousness that has us rotting for them against our better judgement... but it is Dwayne "The Rock" Johnson who steals the show, with incredible range and presence. He's been really solid in other movies before (playing type), but this is career best work from him that HONESTLY deserve some Oscar consideration. He's that good. Like many Bay films, "Pain" is a bit too long and struggles with some tonal shifting, but this is really energetic stuff that can't be denied, and most surprisingly it has a soul and a sense of place. That's more than many films can attest too. From it's great opening sequence, "Pain and Gain" grabbed me and I was left highly entertained throughout. It's "stupid people doing REALLY stupid things" plot reminded me of the Coen's "Burn After Reading." You know what? Bay's film is better. It's his best since "The Rock," and yes... one of my favorites of 2013.
½
By far, I am not saying that Michael Bay finally pulled his head out of his ass and made a film that doesn't rely on juvenile humor and violence, but compared to his prior ones, this may be his "Citizen Kane." The story is based on several articles written in the nineties about a gang of bodybuilders who robbed several wealthy people so they could find their version of the American Dream. Definitely not to credit Bay, but there are some solid scenes, character development, and moments of unintentional hilarity that pepper this film. It's partly due to the, again, juvenile and yet somehow appropriate humor, which veers into black comedy every chance it gets. You could describe the film as being gory, but that would make you think it's incessantly violent and there's a lot of torture. Not to say there isn't, but that's not why it's fun to watch. Its fun relies on how seriously it all relies on the characters who, though they aren't anything new, often make bald, blatant statements about their socio-economic strata in society, as well as their own despondency for their situations. Also, they're unapologetically greedy. Not to a villainous extent, but enough that they are seriously blinded to the repercussions of their actions. The cast is also brilliantly casted. Mark Wahlberg may not be doing anything new with his performance, but as usual he entertains as the lug headed sociopath. Dwayne "The Rock" Johnson is sensational as the hopefully religious and yet deviant drug addict, because he is friendly as well as depraved, his motivation always entertaining. Anthony Mackie and Tony Shalhoub slug along, but don't have the fervor of the other two. What doesn't work seems to be a shift of tone that occurs several times throughout the film. It's distracting, especially as Bay tries to play catch up, eventually changing the ending to something resembling a morality tale. Otherwise, what didn't work didn't always bother me, because I wanted to know just what horrific things these people, in reality, actually did, and that's what makes the ending at least forgivable.
Spencer S.
Super Reviewer
The chemistry among the lead roles were great and at times laughable, but Pain & Gain lacks the ability to maintain a provoking storyline with the amount of loosely mixed up narratives, psychedelic blend and more-than-necessary violent nature. 3/5
Eugene Bernabe
Super Reviewer
Pain & Gain Quotes
| | |
| --- | --- |
| Paul Doyle: | Did you say your friend kept athletic supplies in his warehouse? |
| Daniel Lugo: | Do we have to have this conversation now? Over! What's the problem? |
| Paul Doyle: | I'm lookin at a lot of homo stuff right now Patriot one. A lot. |
| | |
| --- | --- |
| Daniel Lugo: | I can deal with his impotence. I cannot deal with your incompetence. |
| | |
| --- | --- |
| Brad MacCalister: | Look I had to grab her ass! I was the rapist! It's roleplay! |
| | |
| --- | --- |
| Daniel Lugo: | Sometimes God just fucks up your order and you gotta chow down on that shitty shame sandwich. |