Painted Skin: The Resurrection
(2012)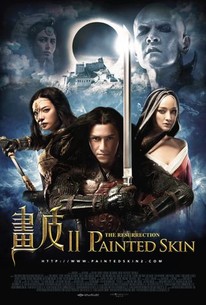 Painted Skin: The Resurrection Photos
Movie Info
An ancient fox spirit embarks on a diabolical quest to become human after escaping an icy prison, and becomes bound to a disfigured princess who seeks the love of a noble guard as her kingdom crumbles in this lavish supernatural epic. Confined to a frozen cell for centuries, malevolent fox spirit Xiaowei (Xun Zhou) regains her freedom and seeks to preserve her beauty by seducing men and consuming their hearts. Should a man offer her his heart willingly, Xiaowei will become mortal, breaking free of the underworld and experiencing living among the living. Meanwhile, as a dark cloud falls over her kingdom, Princess Jing (Wei Zhao) flees, hiding her deep facial scars under a mask of pure gold while seeking the love of her former protector, who remains haunted by his failure to save her years prior. When destiny brings Xiaowei and Princess Jing together, the battle for the princess' heart begins. ~ Jason Buchanan, Rovi
Critic Reviews for Painted Skin: The Resurrection
Audience Reviews for Painted Skin: The Resurrection
½
There's sometimes when I decide to watch a film in two sittings, something I rarely do, it sometimes works in that film's favor, particularly if it's a bad movie. Like if I had to sit a bad movie in one sitting, I'd be pissed. But watching it in two sittings would sort of alleviate some of that badness. It'd still be bad, but I'd probably review it more favorably in comparison. I did that with this film, considering that it was long and it was tired, and, somehow, it didn't actually work in favor of the film. I think it actually detracted from it. And I have no idea why, cause I left the movie off at, probably, the most important point plot-wise with the princess rejecting the Chinese Empire's order to marry the prince of the Tian Lang state, I believe that's what they were called. So I left it at a tense moment that moves the story forward in a big way and yet when I came back to it, I just didn't really get that into it. And it's not like I was that into it prior to stopping it. I mean, I guess there's some cool scenes, like the scene where the fox demon and the princess switch skins, this was actually a really cool scene, visually. It reminded me of parts of Under the Skin. But the story itself didn't really do anything for me. The female characters in the film, for the most part, are poorly portrayed. And by that I mean that they all live for men. Their entire lives revolve around men and being accepted and loved by men that, seemingly, don't want them. Look, it's not that women can't fall in love in films, it's the portrayal of them only living to get the man they love is pretty outdated, to put it nicely. Like I said, strong, independent women can fall in love, but not the way this film does it. And it's particularly lame considering that the three women leads are actually really cool characters in bursts. And it's not like the narrative itself is that good. It's a melodramatic romantic martial arts fantasy epic. I suppose it works with the film's over-the-top style, but it didn't really do anything for me. I'd much rather see actual character development instead of melodrama, but it's the style they chose to go with here, so it is what it is. One thing I will say is that the costume design is pretty amazing. It's one of those thankless jobs, where no one really notices or pays any attention to it, but I do think it is pretty amazing here. And the film does have some pretty cool moments. I wouldn't really even call it a bad movie. I'd just say it's average at best. It's got good acting, the three women leads are all good. It's just that the narrative, and the characterization, brought a lot of it down. It's not a bad film, but the good stuff in the film just isn't good enough to overcome its flaws and that's why I gave it this rating. Wouldn't recommend it, but you could do worse.
Jesse Ortega
Super Reviewer
½
I read about Painted Skin: The Resurrection months back and a trailer that got me interested in seeing it, but had to wait for it release in the US. Now that I finally got my copy of the film I could say it's one of the most beautiful way a love story has ever been filmed and captured it so strongly. Painted Skin: The Resurrection plot is better left not summarize into a simple a sentence. It's an experience that requires the audience to suspend all disbelief in order to enjoy it. It contains an interesting lore on demons, a captivating love story involving demons, and enough set pieces to ravel any major blockbuster. I have to say I have not seen the first Painted Skin, but that didn't prevent from enjoying this any less. What makes this romance story interesting as it unfold is how it shot. Breathtaking photography is always on screen making one visually mesmerizing experience. The attention to detail on the sets as well the costumes are worth noting. It helped me become immerse in the movie in such way I was taken out of my reality. The special effects are well done and it's nice to see CG not used as a mean for explosions or giant robots. The acting is spotless from all of it actors. I particularly enjoyed Xun Zhou who manages to be seductive as a demon without resorting to nudity. I do have a minor complain about some of the actors being underused. My favorite being the very funny Ming Yang who didn't have a major role in the movie, but that's just a small complaint. The great production values and effort put into this film far outweighs any negatives one would have with this fantasy film. Painted Skin: The Resurrection is an interesting as a romance story can get in the fantasy genre. It offers beautiful visuals to go along with an great plot that will have anyone hook on it.
Caesar Mendez
Super Reviewer
½
Wuershan brings the demons to a fairy-tale in Painted Skin: The Resurrection.
As this picture can be mostly seen as a sequel in title only to its predecessor, Painted Skin, the story is more than adequate to stand on its own. The pacing isn't exactly a whirlwind as it does slow for a bit, which ends up pushing the movie out past 2 hours, but there is enough material to see it through to the end.
The CG gets by, not necessarily top of the line, and it is used in abundance. The action, on the other hand, is limited and is left behind in the dust.
Zhou Xun, Zhao Wei, and Kun Chen all return from the first film, although the latter two are completely different characters. Watching Zhou Xun and Zhao Wei take this film by the reigns is a pleasure. Yang Mi and Feng Shaofeng also have some amusing side characters.
Painted Skin: The Resurrection seems like it relies on CG effects, but don't underestimate its story.
Painted Skin: The Resurrection Quotes
There are no approved quotes yet for this movie.