Pale Rider
(1985)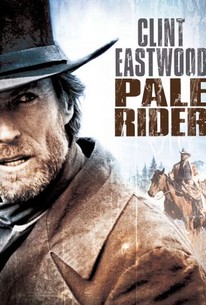 TOMATOMETER
AUDIENCE SCORE
Critic Consensus: Nearly a decade after The Outlaw Josey Wales, Clint Eastwood returns as a director to the genre that made his name with this elegant, spiritual Western that riffs on the classic Shane.
Movie Info
Director Clint Eastwood draws on his experience to put together a western with winning components: the bad guys are corporate jerks out for a profit at the expense of Mother Nature, the good guys are poor but independent gold miners threatened by the corporation, the hero Preacher (Eastwood) is there to set things right, and he is beyond any of that romance stuff. Preacher's shady past is implied when he first comes into town and keeps his anonymity intact. He is sheltered by an unmarried duo, Hull and Sarah (Michael Moriarty and Carrie Snodgress), and soon pays them back by saving Hull from a few murderous thugs. Caught in the middle of the growing conflict, Preacher rallies the miners into a combative group and then goes on to final showdown in true "high noon" style.
News & Interviews for Pale Rider
Critic Reviews for Pale Rider
Audience Reviews for Pale Rider
½
By this point in his career Clint Eastwood was best known for his westerns, he was essentially the ultimate badass cowboy. In the dictionary under westerns, you'd see a picture of Eastwood (nah not really). But yeah Eastwood was the supreme plains drifter with no name. This was, I think, Eastwood's last foray into the realms of western badassery as a no name loner dealing lots of badass justice. He was already slowly moving into a more varied selection of film roles and this seemed to be his final goodbye to this particular genre. And with that we get a very typical Clint Eastwood cowboy flick; all the tropes and cliches you've come to expect which is both good and bad truth be told. The plot: A small bunch of prospectors in California are trying their luck at panning for gold. Thing is they are doing so on land that a greedy big-time miner wants so he can mine it up. Naturally the big-time miner known as Lahood (Richard Dysart) and his cronies are all baddies so they try to run the prospectors off the land with violence. But low and behold, who should come trotting into the picture to save the day? Yep you've guessed it, its Clint as yet another no name hero (actually this character is a clerical man but he's simply referred to as the Preacher). OK so firstly I have to mention the scenery in this movie, it is stunning. Filmed within the Boulder mountains and Sawtooth national park of Idaho, along with Tuolumne County in California, its all breathtaking. I saw this movie on bluray which made this countryside look even more impressive. The clear blue skies, open grassy ranges, jagged mountains capped with snow, dense forests, and the highly authentic looking small town of Lahood. It all looked terrific and really popped on the screen. I guess the problems start with the baddies, those dastardly miners. Basically they weren't a very intimidating bunch truth be told, hardly had me on the edge of my seat. Then you had their leader, a very young Chris Penn. Penn's character was the son of Lahood, basically he's the spoilt kid who's in a position of power but really shouldn't be. Its a good idea but nothing is really done with it. You kinda expect more of a loose cannon, an annoying hotheaded youth shooting his mouth and guns off, but no. The only real evil he gets up to is attempted rape. K that's admittedly pretty bad but he does nothing much else. Lahood himself is your stereotypical aged, short, tubby, balding man in a suit with a fat tash. The elite team of deputies led by Marshal Stockburn (John Russell) who are hired by Lahood to kill the Preacher, are again an element in the film that weren't used to their full capacity in my opinion. For starters Russell was clearly too old for the role as he doesn't move much. Whilst I like the fact that there's an air of mystery surrounding these men and the history between Stockburn and the Preacher, maybe just a hint of backstory wouldn't have gone a miss. But bottom line these guys just weren't utilised enough which was a shame because they were cool. In the end they all get killed off pretty easily one by one by the Preacher in a sequence that we've seen repeated so many times. Shout out to early Billy Drago role here. Speaking of backstory, I guess I should point out that Eastwood deliberately made the Preacher like a ghost. He rides in outta nowhere, as though he was summoned by a greater force to protect the innocent prospectors (a prospectors daughter prays for help as he rides in). At the end he also rides off again to an unknown destination, maybe to save more innocent people? The character obviously does this type of thing often because we see his past gunshot injuries and we see that he keeps his gun and holster locked up in a bank, obviously for these situations. So its totally open-ended which is fine, I guess. Anyway things get a little bit too silly in places, take über baddie 'Club' (Richard Kiel). He is comically taken down by the Preacher early on and later the character actually does the same U-turn as Kiel's other famous character 'Jaws' (he turns into a goodie and helps the Preacher). Then there is also the initial fight between the Preacher and Lahood's men which involves hickory axe staves. Oh and there's that whole underage sex angle with the 14 year old girl protagonist. One of the prospectors daughters falls in love with the Preacher (obviously a silly teen crush) and isn't shy about saying so. Of course the Preacher turns her advances down but holy moly that whole subplot was awkward (and it carries through to the end!). This is a mixed bag for an Eastwood western it really is. On the one hand the movie is serious about its story, this isn't a film for kids or anything. There are some very violent moments in the movie with people getting shot multiple times and shot in the forehead (no cuts). There are beatings, the attempted rape, pillage, and a calf and dog get shot dead (all with blood). Not forgetting the underage girl trying to get into bed with the Preacher. Then on the other hand there are the typical little moments of dark humour you'd expect from Clint, moments of goofiness. As mentioned Richard Kiel's rather stupid and pointless character. And then really really stupid western cliches such as the baddie gang of miners bursting into a store to gun the Preacher down (where he was sitting moments before). Only for the room to be (clearly) empty when they burst in, yet they carry on shooting, shooting at nothing. Then of course the Preacher casually appears and guns them all down. The ending has a heavy dose of deus ex machina about it too. The Preacher has killed all the bad guys except Lahood who is sneaking up right behind him. But then out of the blue one of the prospectors appears and shoots Lahood. But I guess it showed that the Preacher wasn't that invincible, he could have died there. I like that Clint is an aged grizzled gunfighter in this movie, I liked his look and the fact he was a preacher. Yet even though this movie does deliver everything you would want and expect from a Clint Eastwood cowboy flick, you can't escape the feeling that you've seen it all before (which you have). Apart from the odd plot tweak its essentially no different from many of his other western movies. That's not a completely negative thing as Eastwood is/was a master of the western genre, but bare it in mind.
Phil Hubbs
Super Reviewer
½
This is essentially director/star Clint Eastwood's take on the western classic Shane. Set in Northern California in the late 1880s, this film follows a group of independent pan miners who are terrorized by the corrupt and wealthy mining baron of a hydraulic mining operation and his vicious minions who want complete control of the area, and aren't fond of any kind of competition. Following a particularly devastating attack in which her dog is among those that get slaughtered, a young girl prays for a miracle, which shortly thereafter comes in the form of a mysterious stranger who rides a pale horse, and, due to wearing a clerical collar, becomes known simply as The Preacher. The Preacher soon makes it his mission to help the miners stand up for themselves, and take down the ruthless thugs that want to wipe them out. Yeah, the basic plot of this is nothing new, but it's done with a decent amount of style. I also liked that this film was really heavy on religious themes and overtones, and came off like a westernized take on a classic biblical epic. Not much is known about The Preacher, and over the course of the film this remains consistent, which gives a nice amount of ambiguity, and provokes thoughts of mythical and otherworldly proportions. SOme might think this is hokey, but it didn't bother me. I'm all for straightforward mysterious strangers who come to complete a mission, then call it a day once it's done. Eastwood is his typical self here in the lead, and to support him are a solid cast that includes Chris Penn, Richard Dysart, Richard Kiel, Sydney Penny, Carrie Snodgress, and Doug McGrath. The film has a nice look, is suitably gritty and stark when needed, and delivers the goods without any excess sidetracking. Like I said, it's nothing really knew, but it's still done quite well, so I say give it a look. Of the three westerns Eastwood made from 1976-1992, this one is the least of the three, but is still an okay film in its own right.
Chris Weber
Super Reviewer
½
A prospector's daughter has her prayers answered when a mysterious preacher with an uncanny knack for violence comes to town to defend her community from the ruthless land baron who threatens them. Pale Rider drops the otherworldly elements of High Plains Drifter into the plot of Shane to create yet another enjoyable revenge western from Clint Eastwood. The format is very familiar, but Clint brings his usual brand of steely eyed charisma to the screen and its difficult not to cheer for the "little guy" when taking on the might of the eminently hissable "man" in the shape of an amusingly villainous Richard Dysart. Chris Penn is maybe a little too young and boyish to make a suitable bad guy but Richard "Jaws" Kiel puts in a memorable cameo as a hired thug and the tense final showdown with a satanic set of mercenary law men is really well done. A little generic to be considered one of his very best, but it's still a finely crafted old school western with a supernatural slant.
Pale Rider Quotes
| | |
| --- | --- |
| Josh LaHood: | [Preacher has just hit Club in the groin with a sledgehammer - Josh LaHood looks at Club when he gets back up on his horse and they start to ride away] You think you can make it? |
| Josh LaHood: | [preacher has just hit Club in the groin with a sledgehammer - Josh LaHood looks at Club when he gets back up on his horse and they start to ride away] You think you can make it? |
| Club: | Ice!... Ice! |
| Club: | Ice! Ice! |
| | |
| --- | --- |
| Preacher: | Nothing like a good piece of hickory. |