Palindromes
(2004)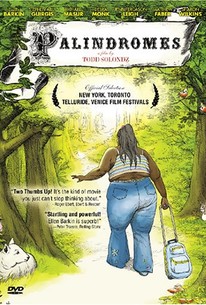 Movie Info
Thirteen-year-old Aviva Victor wants to be a 'mom'. She does all she can to make this happen and comes very close to succeeding, but in the end her sensible parents thwart her plan. So she runs away, still determined to get pregnant one way or another, but instead finds herself lost in another world, a less sensible one, perhaps, but one pregnant itself with all sorts of strange possibility. She takes a road trip from the suburbs of New Jersey, through Ohio to the plains of Kansas and back. Like so many trips, this one is round-trip, and it's hard to say in the end if she can ever be quite the same again, or if she can ever be anything but the same again.
Critic Reviews for Palindromes
Audience Reviews for Palindromes
"Palindromes" is intermittently engaging but overall does not have much of a point. The plot focuses on a girl who's about 13 and wants to have a baby. Because her parents will not allow her to pursue this dream, she runs away, hoping to get impregnated someday. Along the way, she meets Christian anti-abortion activists and lives with them for a while. This sequence is by far the best in the film. She also attempts to have an affair with a man, which is quite creepy to watch. Writer/director Todd Solondz has explored pedophilia (and the opposition to it) in several of his films. I'm not exactly sure why he finds it so interesting. Abortion is another big theme. The main character is forced by her parents to get an abortion early in the film, and she later becomes stridently (even maniacally) pro-life. Again, I was not seeing what drove Solondz to include this hot-button social issue in his screenplay. The central gimmick in the production is that five or six different actresses play the girl, including two instances where adults play her. One of these adults is Jennifer Jason Leigh in a brief sequence. I didn't find that this technique revealed anything that significant, but I appreciate Solondz' willingness to experiment with form. The biggest problem is that the film never takes any of its interests seriously. The adventures that the runaway girl has are explored in only a very circumspect and superficial way. Most of the actresses portray her as highly lethargic, and I started to feel as phlegmatic as her while watching the film. Solondz likes to look at the dark underbelly of mainstream suburban culture, but he does not explore it with much gusto or insight. He just kind of glances at it. This makes his films rather slight. A palindrome, incidentally, is a word that is spelled the same backwards and forwards, like Aviva, the name of the main character. Nothing in the film indicates why Solondz finds this so intriguing as to name the film as he did. And if he told me, I bet I'd find it only mildly interesting.
William Dunmyer
Super Reviewer
½
More than just a sequel to Welcome to the Dollhouse, this is a companion piece. Much more abstract than it's predecessor, Palindromes delves a little deeper into teenage sexuality and it's relationship with self image and self esteem. A very dynamic and off-beat film.
Randy Tippy
Super Reviewer
½
Todd Solondz's strangest & imo weakest film
Palindromes Quotes
There are no approved quotes yet for this movie.