Palookaville
(1995)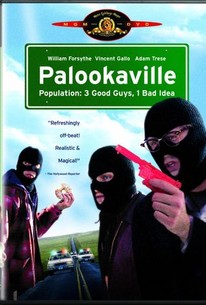 Movie Info
Three small-town Joes have trouble making ends meet, so they turn to a life of crime -- though without too much success. This low-key comedy follows their inept attempts at finding the big score that will make them rich, culminating in a goofily botched armored-car heist.
Audience Reviews for Palookaville
½
Understated comedy about inept criminals featuring lesser-known actors. (Not nearly as bad as it sounds.)
Randy Tippy
Super Reviewer
Clumsy, dim-witted comedy that manages to mess up on almost every level. It becomes wearisome within the first ten minutes at most, and it only gets worse from there. This movie forces the audience to participate in the bumblings of three despicable characters for 90 minutes. The dialogue scenes are all bizarrely directed, forcing actors to perform actions that are as unconvincing as they are stupid. This isn't funny material; it's downright desperate. Vincent Gallo (the reason I bought it) is great as always, and the same can be said for Frances McDormand. That's about all that can be said for this misfire.
A very amusing left field heist movie with plenty of laughs and a very "indie" feel. Fans of QT and Guy Ritchie should definitely check it out.
Palookaville Quotes
There are no approved quotes yet for this movie.