Pandora and the Flying Dutchman
(1951)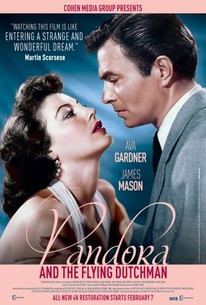 Pandora and the Flying Dutchman Photos
Movie Info
A legendary film, which has been elevated to haute cult status. A dutchman, living in the 17th century, is not permitted to rest until he finds a woman who loves him enough to die for him. He meets the reincarnation of a woman from his dead past and falls in love. The story progresses to a hair-raising reconciliation of past and present.
Critic Reviews for Pandora and the Flying Dutchman
Audience Reviews for Pandora and the Flying Dutchman
While I wouldn't consider "Pandora and the Flying Dutchman" a masterpiece or a lost piece of cinematic perfection, it's beautiful cinematography captured in beautiful technicolor and strong performances make it a beauty to behold. The film has a very dream-like feel to it and the deliberate pacing of the film only adds more to this mood that suits both the story and film wonderfully! While many critics at the time of the film's theatrical release criticized Ava Gardner's performances, saying it was too cold and contrived, I think it suits the role flawlessly. James Mason gives a powerful portrayal of the Dutchman who after murdering his wife out of false suspicion of her infidelity is cursed to sail the seas until Judgement day. Of course the catch is that if he finds love (He is allowed to walk the earth for six months every seven years in search of a woman willing to love him and die for him.) then the curse will be broken and he can find peace. This is one of many films to have been lovingly restored thanks to the involvement and devotion of Martin Scorsese who should be given loads of credit for his passion in bringing this and many other Classic films back to their former glory on Blu-ray! This is certainly a very hard film to classify or stick in a certain genre and is more like a lucid dream that combines mysticism and melodrama to form a wonderful romance film that is so much more then it's separate pieces.
Chris Browning
Super Reviewer
truly bizarre. you'll have to watch and judge for yourself if it's wildly romantic or ridiculously over the top. it's as if the archers had directed 'the fountain'...not quite as good but more fun. a gorgeous looking film. some call this lewin's masterpiece but i'll take 'the picture of dorian gray'
Stella Dallas
Super Reviewer
Pandora and the Flying Dutchman Quotes
There are no approved quotes yet for this movie.