Panic in the Streets
(1950)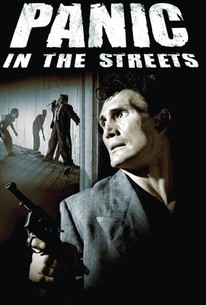 Panic in the Streets Photos
Movie Info
Filmed entirely on location in New Orleans, Panic in the Streets stars Richard Widmark as Dr. Clinton Reed, a physician from the U.S. Health Service who must race against time to stop a plague. The carrier was an illegal alien, murdered by criminals Jack Palance and Zero Mostel. When local officials note the strange condition of the corpse, they fear that the germs will spread to epidemic proportions, and thus summon Reed to wrest control of the situation. At first facing opposition from rule-bound police captain Paul Douglas, Widmark is finally able to work hand-in-glove with Douglas in tracking down Palance and Mostel, who have themselves become plague carriers. Many of the actors in Panic in the Streets are local nonprofessionals, selected by director Elia Kazan because of their "rightness" within the framework of the story; the rest of the cast is peopled by such film veterans as Barbara Bel Geddes, Tommy Cook, Emile Meyer and H.T. Tsiang. Widmark's son is played by an uncredited Tommy Rettig, four years before he starred on the Lassie TV series. Though Elia Kazan liked to claim that much of Panic in the Streets was improvised, there was a script, adapted by Richard Murphy and Daniel Fuchs from a story by Edward Anhalt and Edna Anhalt.
News & Interviews for Panic in the Streets
Critic Reviews for Panic in the Streets
Audience Reviews for Panic in the Streets
½
Not panic enough to entertain.
familiar stranger
Super Reviewer
With such a great cast this could have been an great classic, but the movie has it's boring slow scenes, other than that I liked it. The story is exciting and the actors do their best.
½
a medical thriller where widmark gets to play the hero for a change. he's a public health doctor racing the clock to prevent an outbreak of plague in new orleans. jack palance is a very effective villain in his film debut. good suspense
Stella Dallas
Super Reviewer
Panic in the Streets Quotes
There are no approved quotes yet for this movie.