Pan's Labyrinth
(2006)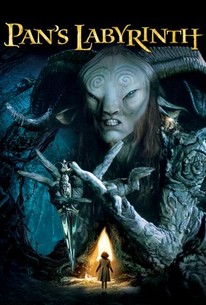 TOMATOMETER
AUDIENCE SCORE
Critic Consensus: Pan's Labyrinth is Alice in Wonderland for grown-ups, with the horrors of both reality and fantasy blended together into an extraordinary, spellbinding fable.
Movie Info
Mexican filmmaker Guillermo del Toro returns to the phantasmagorical cinema that defined such early fare as Cronos and The Devil's Backbone with this haunting fantasy-drama set in the aftermath of the Spanish Civil War and detailing the strange journeys of an imaginative young girl who may be the mythical princess of an underground kingdom. Her mother, Carmen (Ariadna Gil), recently remarried to sadistic army captain Vidal (Sergi Lpez) and soon to bear the cruel military man's child, shy young Ofelia (Ivana Baquero) is forced to entertain herself as her recently-formed family settles into their new home nestled deep in the Spanish countryside. As Ofelia's bed-ridden mother lies immobilized in anticipation of her forthcoming child and her high-ranking stepfather remains determined to fulfill the orders of General Francisco Franco to crush a nearby guerilla uprising, the young girl soon ventures into an elaborate stone labyrinth presided over by the mythical faun Pan (Doug Jones). Convinced by Pan that she is the lost princess of legend and that in order to return to her underground home she must complete a trio of life-threatening tasks, Ofelia sets out to reclaim her kingdom and return to her grieving father as Vidal's housekeeper Mercedes (Maribel Verd) and doctor (Alex Angulo) plot secretly on the surface to keep the revolution alive. ~ Jason Buchanan, Rovi
Critic Reviews for Pan's Labyrinth
Audience Reviews for Pan's Labyrinth
A very enjoyable film, that is well directed and has all round good production levels. It's almost like two films in one running side by side. It would have been a bit more interesting to see more of the fantasy characters and their world in which they live in. The film can be quite bloody and violent at times to which was a surprise, this is definitely for an adult audience.
Del Toro creates a magnificent fairy tale for grown-ups in which the innocence of fantasy collides with the horrors of war - and the result is a devastating, poignant and unforgettable film of lyrical beauty, with astonishing visuals, great performances and a wonderful score.
Carlos Magalhães
Super Reviewer
Daniel J DeMersseman
Super Reviewer
Pan's Labyrinth Quotes
| | |
| --- | --- |
| Vidal: | You could have obeyed me! |
| Doctor: | But Captain, to obey, just like that, for obedience's sake... without questioning... That's something only people like you do. |
| | |
| --- | --- |
| Ofelia: | Many, many years ago in a sad, faraway land, there was an enormous mountain made of rough, black stone. At sunset, on top of that mountain, a magic rose blossomed every night that made whoever plucked it immortal. But no one dared go near it because its thorns were full of poison. Men talked amongst themselves about their fear of death, and pain, but never about the promise of eternal life. And every day, the rose wilted, unable to bequeath its gift to anyone... forgotten and lost at the top of that cold, dark mountain, forever alone, until the end of time. |
| | |
| --- | --- |
| Carmen: | You're getting older, and you'll see that life isn't like your fairy tales. The world is a cruel place. And you'll learn that, even if it hurts. |
| | |
| --- | --- |
| Pan / Pale Man: | And it is said that the Princess returned to her father's kingdom. That she reigned there with justice and a kind heart for many centuries. That she was loved by her people. And that she left behind small traces of her time on Earth, visible only to those who know where to look. |