Paparazzi
(2004)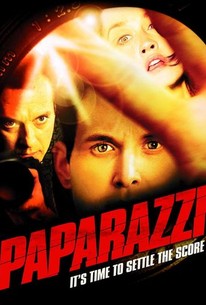 Movie Info
Paparazzi--they are chroniclers of Hollywood glitz and glamour, and key players in the public's insatiable appetite for information and photos about their favorite stars. They seem to never sleep, hunters who trail their prey--the show business elite--at all hours of the day and night. They are as much a part of gala premieres, as are the bright lights and red carpets. And their photos can make or break a career. For rising action superstar Bo Laramie, a quartet of paparazzi is at first an annoyance, then an ever-disturbing presence. But when they threaten his family's safety, it will be the last mistake they ever make. Bo seems to have it all: a beautiful wife, an adoring son and a Malibu beach house. Life couldn't be better. But his newfound fame comes with a price. He's become a target of a team of four paparazzi bent on making Bo and his family fodder for the tabloids, to nearly ruinous effect for the Laramies. The paparazzi and their weapons of choice--high-powered zoom lenses--stalk Bo everywhere. He accepts the typical invasion into his privacy, until photos of his wife, Abby, and his son, Zach, begin appearing on covers of one particularly sleazy tabloid called Paparazzi. All efforts to convince the photographers to spare his family are ignored, and when Bo has a fight with one "superstar" paparazzi, Rex, the actor is sentenced to anger-management therapy--while Rex walks away unpunished. The 'Paparazzi' paparazzi become increasingly relentless, ruthless--even criminal. One night, while trying to get "the shot," they force Bo and his families into a high-speed car chase that ends in a terrible accident, sending Abby into intensive care and 6-year-old Zach into a coma. Veteran Los Angeles police detective Burton believes Bo's version of the accident, but when Burton can't make the case against the photographers, Bo seeks vengeance on his own. And the paparazzi start falling--one by one.
Critic Reviews for Paparazzi
Audience Reviews for Paparazzi
Paparazzi is an awful action revenge thriller that lacks anything truly interesting. The film has a poor cast, a poorly written script, wooden performances and direction from a director that can't seem to craft something good with his ideas. I really expected something good with this one, but I was really let down. The film had a promising start, but it started to come apart in the middle and by the end, it was laughably bad. The performances are horrible, and the film is filled with clichés. This is the perfect example of a film that could have been much better if the script would have been rewritten and revised a few times. This is a letdown, and if you're expecting something good, fun and original, you'll be sadly disappointed. Watch something else, as this one is definitely not worth your time. The film tries too hard at being revolutionary and trying something new, but it fails to deliver anything of note and it just ends up being a big waste of time. Paparazzi is simply put, a poorly crafted film that lacked in every sense of the word. Watch something else as this one doesn't provide you with anything worthwhile to watch. In the revenge genre, there have been far better movies than this one. Paparazzi just doesn't cut it, due to its stupid, poorly constructed script, and painful performances. As a whole, this is a very forgettable revenge film that you definitely should avoid if you love the genre. Watch Law Abiding Citizen, the original Straw Dogs or any other genre film, and avoid this painful trash that just relies on previous ideas from other better films to create its lackluster thrills.
½
Innovative, ground breaking cinema? No. But it's still a pretty decent ride, and this movie is filled with cameos. I wouldn't own the movie, but it is what it is. An hour of action, and drama that unfolds with the hollywood ending that you knew was coming all along. Obviously written as revenge against the real Paparazzi out there.
Cynthia S.
Super Reviewer
½
Could of been a decent revenge-action flick with a performance from a promisiung new star but only feels like dull, dark and recklass thriller where the good guy gets away with murder.
Paparazzi Quotes
There are no approved quotes yet for this movie.