The Paper
(1994)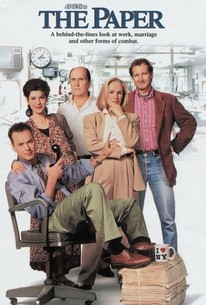 Movie Info
Director Ron Howard's drama follows a beleaguered reporter during a hectic 24 hours at a New York City tabloid. Michael Keaton stars as Henry Hackett, a metro editor for the struggling New York Sun. Hackett is being wooed by the Sentinel, a more upscale paper, but he's addicted to the adrenaline-stimulating, breakneck pace of the Sun's newsroom, much to the consternation of his pregnant wife Martha (Marisa Tomei. Hackett is currently pursuing a story of two minority youths who have been arrested for the murders of two men. He learns that the police think that the killings may be a mob hit. In the court of public opinion, however, the innocent suspects are being judged as guilty, and the police may bow to the pressure. As Hackett and his staff desperately work all the story's angles to find the truth, several other dramas unfold. Top editor Bernie (Robert Duvall) learns that he has prostate cancer, and tough publisher Alicia (Glenn Close) wonders if her lack of popularity is due to her cost-cutting, her personality, or the fact that she's a woman. In their only collaboration, screenwriter David Koepp co-wrote the script with his brother Stephen Koepp, a senior editor at Time magazine.
News & Interviews for The Paper
Critic Reviews for The Paper
Audience Reviews for The Paper
½
With this cast this should have been better.
Bernie: Well, you're in management now. If everybody loved you, you'd be doing something wrong. "A behind-the-line look at work, marriage, and other forms of combat." The Paper is a decent workplace, comedy/drama from Ron Howard that features a long and impressive cast. While this movie doesn't quite leap off the screen at you, it was still pretty good in it's own right. Normally Ron Howard tends to be pretty hit and miss, and with this one, it's right on the edge of being either hit or miss. It's not good enough to call it a clear success, but it is good enough to say that he didn't miss.  Henry is an editor at the New York Sun newspaper and he has a busy day ahead of him. He has an interview at the Sentinel, which is offering him a job that would pay more. He also is trying figure out how to put together a worthy cover story after missing on yesterday's. He has to fight time, a pregnant wife, a colleague, and still manage to get the paper out on time and make sure he's running the correct story. While The Paper may come off as just another dull and unexciting workplace movie, I somehow found just enough enjoyment from it. It had just enough funny and smart parts to make up for a lot of dull and boring parts. The movie kind of plays like a lesser and lighter form of Broadcast News.  I'm gonna give this one a mild recommendation. The movie is most worth it for the cast. Although no one is giving one of the best performances of their careers, this huge and star studded cast makes seeing this movie worth it. Michael Keaton, Robert Duvall, Marisa Tomei, Glenn Close, Randy Quaid, and many more faces you'll be sure to recognize. 
Melvin White
Super Reviewer
½
The Paper ended up being much better than I thought. It takes a boring subject like news and made it interesting and also showed me the inside work of a newspaper, but its also at times very weird and does not realize what it is.
Bradley Wright
Super Reviewer
The Paper Quotes
There are no approved quotes yet for this movie.