Paper Heart
(2009)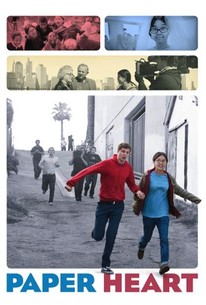 Movie Info
Real-life sweethearts Michael Cera and Charlyne Yi star in a fictionalized version of their romance in this indie semi-documentary comedy, written by Yi. Playing themselves, Yi and Cera embark on a scripted version of their own story. In the movie, Yi has agreed to be the subject of a documentary about her quest to discover if love really exists, since she's never experienced it. As part of her participation in the project, she has a film crew follow her around throughout every new development in her love life -- which gets complicated when she starts dating fellow comedian Cera. This portion of the film is all narrative, and was written into the script, but also as part of the documentary, Yi travels the country interviewing various people about their opinions and experiences with love, and these portions of the film are real -- the interviewees are not actors. Melding truth and fantasy, Paper Heart uses equal parts comedy and realism to resolve the ultimate question of whether love is fact or fiction.
News & Interviews for Paper Heart
Critic Reviews for Paper Heart
Audience Reviews for Paper Heart
½
A story about love that's taking on a life of its own. Average movie that needed a better ending!"Paper Heart" doesn't have any real direction, but neither does life. Are Charlyne and Michael made for each other? What if their relationship doesn't last? It's something the filmmakers just have to work with. From what I got, there's no defining message about what love is, other than it's to each his own. Overall, a cute and lovable movie. The ending is unsatisfactory, but that's because there is no end that would fit the story and remain truthful to real life. Charlyne Yi embarks on a quest across America to make a documentary about the one subject she doesn't fully understand: Love. Michael Cera becomes the object of her affection. Weaving together reality and fantasy, Paper Heart combines elements of documentary and traditional storytelling to get at modern romance.
"A story about love that's taking on a life of it's own." Paper Heart is an odd and extremely off beat fake documentary. What's more odd then the film is the fact that I actually liked it. Not a lot, but I did enjoy it for the most part. On another note, I don't think I could come up with a couple that is more perfect for each other then Charleyne Yi and Michael Cera. Both of whom are the definition of awkward.  The movie really relies on if you can take Yi's brand of humor or not. Most can't, I however, am a fan of the awkward, it's so not funny it's funny comedy style Yi employs. The movie centers around Yi not believing in love. She meets Michael Cera and likes him, but she still doesn't believe in love. Although I did like the movie, it does over stay it's welcome. But it is a short little movie; clocking in at about an hour twenty. We see familiar faces like Seth Rogen and Demetri Martin for little cameos.  The only thing that really got old was all the old couples that have interview. I can understand a few, but it seems like overkill. They all say basically the same thing. If they would have cut one or two of them out, I would have liked Paper Heart a lot more. The runtime would have came in at like an hour and five to ten minutes, but that probably would have helped the movie a little too. As it is though, I still enjoyed it for it's awkwardness. I would never recommend it to anyone though because I do understand that the majority would not like this movie at all.
Melvin White
Super Reviewer
½
Oh my god, I'm usually not that shallow, but Charlyne Yi is so unattractive and awkward I literally could not watch for any longer. Girlfriend best not act ever again. Also this movie: way way too annoying and self-aware, even for hipsters.
Jennifer Xu
Super Reviewer
Paper Heart Quotes
There are no approved quotes yet for this movie.