Paperhouse
(1989)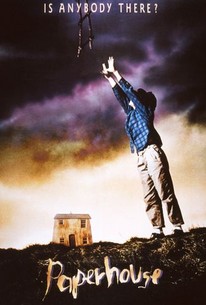 Movie Info
Eleven-year-old Charlotte Burke, the neglected daughter of Ben Cross and Glenne Headley, passes out on the school playground and dreams of visiting a house she'd previously drawn in her composition book. She imagines another visit to her "paper house" while playing hide-and-seek. Experimenting, Burke draws a figure in the window of the house; the next time she dreams, she meets a young boy, as lonely as she. Convinced that she wields a large degree of power in her pencil, Burke draws a picture of her father, Cross, hoping that in doing so he will return home. But Burke is dissatisfied with the picture, and crosses it out--whereupon Cross shows up in her dreams as a murderous stalker. What happens next is a maelstrom of psychological horror, told completely from the child's point of view. Paperhouse is based on Marianne Dreams a novel by Catherine Storr.
Critic Reviews for Paperhouse
Audience Reviews for Paperhouse
A drawing that became a dream. A dream that became reality. I think there is a tiny bit of a message hidden in a movie. It is a Unique Movie, unlike the movie House of Cards I enjoyed this a tiny bit more.
½
This was hugely distrubing to a ten year old boy when I watched it. Extremely odd little story but one that has stuck with me until now.
Barry Lappin
Super Reviewer
½
An eerie dreamscape of a movie. A girl draws pictures of a house on paper, and it becomes a place she can visit. Soon she is drawing other things which she can interact with. It's dark rather than fanciful. An experience.
Lafe Fredbjornson
Super Reviewer
Paperhouse Quotes
There are no approved quotes yet for this movie.