Paprika
(2006)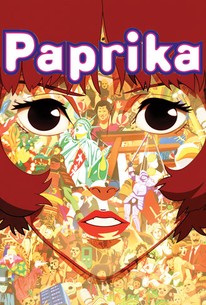 TOMATOMETER
AUDIENCE SCORE
Critic Consensus: Following its own brand of logic, Paprika is an eye-opening mind trip that is difficult to follow but never fails to dazzle.
Movie Info
A machine allows therapists to enter patients' dreams. When it's stolen, all hell breaks loose, and only a woman therapist (nicknamed "Paprika") seems able to stop it.
Critic Reviews for Paprika
Audience Reviews for Paprika
There is something so disturbing and yet definitely entertaining about a film that explores the human mind, and this film does so in the most extreme and interesting ways. Through the beauty and intrinsic evolution of anime, the world of dreams has never been fuller or more vibrant on screen, at least not since "Un Chienne Andalusia". It feels so thick and odd throughout, mashing together the world of reality and that of the human mind. Fused together it's this strange ride through the sub-conscious that is both terrifyingly familiar and yet obtuse enough to be its own inane story. There's a lot of crazy elements that coalesce into an intricate and yet palatable world that not only remains adult with its themes but childlike and nostalgic. Thrown between these inert dreams comes the story of a hostile takeover from a high up figure, taking on a group of scientists who are trying to understand and study what is happening in the world of dreams. This dark and foreboding presence haunts the nightmares of a mashed dream that carries the psyches of multiple people, some possibly dead. The heroine of the film is a scientist working in the world of dreams, guised in the alter ego of Paprika, a red headed nymphet with a penchant for the absurd and a kind heart that speaks to a police chief. Paprika as an entity is not like a mindful Tinkerbell, but works as a pseudonym for the scientist. She works more as a strange multiple personality than a moderate cyborg. Paprika as a character is fascinating, and her role in the film is extensively reaching out to the other characters either through their subverted subconscious or in real life. The dreams are vivid, as well as the animation, and the story involves the same good versus bad narrative that dwells in most great films. This film is just so inventive and masterfully strange that it's something very other and yet powerfully recognizable.
Spencer S.
Super Reviewer
½
A film that is way ahead of its time, Paprika is an acid trip of an anime epic. The story is mind bending and the animations are more ridiculous than that face melting scene from Raiders of the lost Ark. In just 3 minutes of starting the film, the tone is established and the audience is presented with imaginative characters. An underrated gem but can match the likes of classics like Spirited Away and Akira.
A movie that tackled the subject of dreams and reality before "Inception" made it cool. However, the dream sequences in "Paprika" are more trippy, a lot more trippy. The dreams in the movie burst with creative and unique visuals that make them incredible spectacles to watch. The story very smoothly weaves from sci-fi thriller, detective story, examinations of technology, and the nature of reality. However, I thought the characters could have been developed more. The only the character that is given a lot of development is the detective guy. One problem that arises out of this is that the character Paprika comes off as an enigma. It seemed the film is not sure whether we are supposed to perceive Paprika as a cheery heroine, charming ant-heroine, or a playful rule-breaker. Plus the villains are very under-developed as far as motivations go. Despite these minor issues, the film is still a must see for anime fans and non-fans alike.
Christopher Heim
Super Reviewer
Paprika Quotes
| | |
| --- | --- |
| Guy: | The high pressure holds the grab bag. It looks a lot like milk. I think of apples! |
| | |
| --- | --- |
| Shima Tora-taroh: | This whole Festival was put together by 20 third graders with lots of chutzpah and one panda! |
| | |
| --- | --- |
| Atsuko Chiba: | Desperate times call for desperate measures. |
| | |
| --- | --- |
| Atsuko Chiba: | You get busy with what you want to do and ignore what you have to do. |