Paradise
(2013)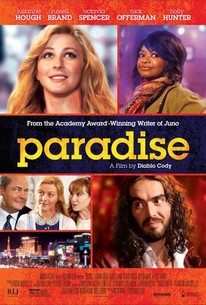 TOMATOMETER
AUDIENCE SCORE
Critic Consensus: Paradise rounds up an impressive array of talent on either side of the camera -- all of whom would presumably prefer that audiences forget their involvement in this misfire.
Movie Info
Writer-director Diablo Cody (Academy Award (R) winner for Best Screenplay, Juno, 2007) delivers this hilarious tale of innocence lost and paradise found, starring Julianne Hough (Safe Haven), Octavia Spencer (Academy Award(TM) winner for Best Supporting Actress, The Help, 2011) and Russell Brand, Get Him to the Greek). After a nearly fatal accident, 21-year-old Lamb Mannerheim (Hough) is beginning to realize that the world is much bigger than her small, God-fearing Montana town. Armed with a big, fat insurance payout and a checklist of untried sins, there's only one place for her first taste of temptation...Las Vegas! Now this wide-eyed, innocent girl will have to navigate the bright lights, seedy bars and dark alleys of "Sin City." And, with the help of a few new friends (Brand and Spencer), Lamb just might survive her strange adventure and discover what it means to really live. Holly Hunter (Academy Award winner(TM), Best Actress, The Piano, 1993) and Nick Offerman (TV's "Parks and Recreation") also star in this oddball odyssey of lost souls, broken faith and cheap cocktails...a true journey of the heart. (c) RJ Entertainment
Critic Reviews for Paradise
Audience Reviews for Paradise
½
In "Paradise," Lamb Mannerheim(Julianne Hough) has had her beliefs severely challenged by a near fatal plane crash that has left her with burns over most of her body. She expresses those new ideas, especially the parts about now being an atheist and even possibly voting Democrat in the next election, in front of her church, instead of announcing her donation of her settlement money. Rather, she will use some of that money to spread her wings. But instead of traveling to London to do jell-o shots with Richard Dawkins, she flies to Las Vegas for some general debauchery that begins ominously with a peach schnapps. With her engaging directorial debut "Paradise," Diablo Cody shows that along with her skill with words, she also has a knack for visual imagery. It helps that Cody seldom goes after easy targets while having the movie's sweet protagonist find herself and the world, and maybe not in that order. That's not to mention an excellent turn from Octavia Spencer.(I don't know what to make of Russell Brand and probably never will.)
½
A supposed inspirational comedy, Paradise tries to bring some heart to its satire. After renouncing her faith a burn victim takes off for Las Vegas to experience life for the first time, and along the way she meets a bar tender and a lounge singer who offer to guide her on her journey. Julianne Hough leads the cast and brings a certain charisma to her performance that lightens up the film. And, Russell Brand gives a strong supporting performance that serves as good comic relief. However, the film seems a little confused about what it's trying to say. Paradise is a bit of fun, but it doesn't really go anywhere.
Dann Michalski
Super Reviewer
You're courting irony when you name your movie Paradise, as well as pained movie critic puns, but I had faith that Diablo Cody, stepping into the director's chair for the first time, would entertain, especially after her best screenplay yet, 2011's Young Adult. The problem with Paradise is that it goes just about nowhere and it's shockingly bland, a criticism I never thought I'd have for a Cody-penned work. The premise starts off strong, with Lamb (Julianne Hough) as a devout Christian living a sheltered existence until the day she becomes the sole survivor of a plane crash. Her body covered in burns, her faith shaken to its core, she embarks on journey to Las Vegas to sin it up big time. It's snarky and satirical, and then she gets to Vegas, she meets some nice new pals (Russel Brand, Octavia Spencer), and they hang out and... that's about it. The Lamb character is meant to be a naïve but ultimately nice person, but she's portrayed as vaguely racist thanks to Cody's simple skewering of fundamentalism. Where are the sharp characters and incisive wit of Cody's past efforts? The comedy almost dissolves as it goes and you realize that intriguing premise is never going to be realized. And then the third act happens and it feels like the film just gives up, unearned sentimentality takes control, and the characters all find unsatisfying conclusions. The characters aren't given enough material, often left adrift in a plot-free environment of self-discovery. A misguided scene where Lamb pours her heart out to a former prostitute could work as a summary of what tonally doesn't work with this movie. There are some funny moments, even some affecting ones, but Paradise doesn't feel like it has a sophisticated voice and clear direction. Coming from Cody, I wouldn't have expected those two chief complaints. Nate's Grade: C
Nate Zoebl
Super Reviewer
Paradise Quotes
There are no approved quotes yet for this movie.