Paradise Alley
(1978)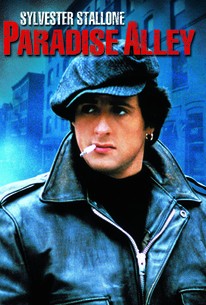 Movie Info
Film auteur Sylvester Stallone wrote, directed, and stars in this re-working of Rocky to fit an old-fashioned Hollywood formula, depicting three brothers from New York's Hell's Kitchen of the 1940s who want to claw their way out of poverty. Lee Canalito is the muscle-brained iceman Victor, and Armand Assante is the embittered, crippled war veteran Lenny. But the smooth-talking con man brother Cosmo (Sylvester Stallone), sees beef-cake Victor's fists as their ticket out of the slums. Cosmo, ever the manipulator, convinces the dull-witted Victor to participate in a series of bone-crunching wrestling matches as Kid Salami. Cosmo and Lenny exploit Victor's brute strength to grab the fast money on the wrestling circuit. But their climb to success is halted when the local gangster Stitch (Kevin Conway) puts up his malicious and dangerous wrestler Frankie the Thumper (Terry Funk) to fight against Kid Salami in a 22-round meat-pounder.
News & Interviews for Paradise Alley
Critic Reviews for Paradise Alley
All Critics (5) | Fresh (2) | Rotten (3)
The setting, the excellent cinematography, and sense of humor makes us forgive Sylvester Stallone's many excesses. [Full Review in Spanish]
Equal parts unintentionally hilarious, unbearably earnest, and shamelessly derivative.
Audience Reviews for Paradise Alley
From the beginning we knew it was going to be a film that's never going to take itself seriously as we have Stallone singing the soundtrack in the opening scene, As for the film well it's directed, Written by Stallone and Rocky was still fresh in 87 and you can tell that it was a big influence, apart from it's about wrestling not boxing and Stallone is the trainer, He trains his brother who like Rocky is not the sharpest tool in the shed but is good at what he does and has a big heart, The whole film just felt like a wrestling remake of Rocky, It starts very slow but soon picks up when the fights start, As for the fights they were pretty well done, My only problem was there was the cringe worthy humour thrown in that sometimes was funny but most just silly that kind of ruind parts of the film, Overall it's underrated and yet another film Stallone deserves credit for but won't be remembered for it.
Jamie Clarke
Super Reviewer
Good Sly film. :) I still love Rocky the most though. :)
Cassie Hill
Super Reviewer
½
You've gotta love the lunk, another fight show with a big heart, one-man show as Stallone wrote, directed, acted, and sang the theme song in his first followup to Rocky. This time the story's based around three Italian brothers and their attempts to make money out of the youngest's wrestling ability. With Terry Funk (champion westler, see Beyond The Mat for more details) and Tom Waits in his film debut as the piano-playing Mumbles...so no typecasting there then. Surprisingly enjoyable, especially If you like 70's films in general, Rocky in particular or wrestling in the rain.
Paradise Alley Quotes
There are no approved quotes yet for this movie.