Paradise Lost 2 - Revelations
(2000)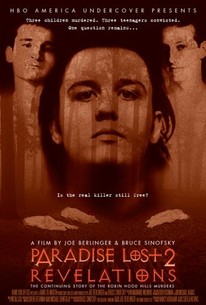 Movie Info
This documentary takes another look at the murders of three young boys in Robin Hood Falls, AR. Their deaths were the subject of a 1996 film entitled Paradise Lost: The Child Murders at Robin Hood Hills. Many questions have been raised about the evidence against three young men who were convicted of the crime. Joe Berlinger, who co-produced the first film, returns to Robin Hood Hills to learn more about the investigation and to see how the small town is coming to terms with its loss.
Critic Reviews for Paradise Lost 2 - Revelations
Audience Reviews for Paradise Lost 2 - Revelations
½
A bit repetitious with so many clips from the first movie, but still it is reassuring how it shows that there are supportive people willing to help the defendants prove their innocence for free, as well as the irony of assuming that someone else is guilty because of his appearance.
Carlos Magalhães
Super Reviewer
Sequel to the first Paradise Lost film is yet another powerful eye opening documentary that sheds even more light on the West Memphis 3 case who were accused of murder. The film takes a look five years after the events of the first film, and how things are progressing for the three men accused of the heinous crimes. This film brings to light even more doubt on the guilt of the WM3. This is a brilliantly constructed documentary and a phenomenal follow-up to the first film. Paradise Lost 2 makes you ask more questions upon seeing it. The film manages to show even more proof of the boy's innocence in the crimes they were convicted in, and how the judiciary system is flawed. I really liked the film, and thought it was a poignant, disturbing film that now shows the WM3 were innocent, and how people have come to rally and support them in the plight for clearing their names. Directors Sinofsky and Berlinger direct a strong film, and this sequel along with the first is among the best documentaries ever filmed. If you are interested in crime documentaries, and have seen the first film, then watch this one. This sequel raises new questions and brings to light a possible new suspect. I thought it was pretty interesting and quite frankly likely that there was a suspect that was directly implicated in the tragedy. As a whole this is a well made film that exposes some great holes in the judiciary system. For people who enjoy documentaries, this film is a must. This film expands what the first film did and gives us even more detail on the case and presents us with even more facts for the viewer to make up his own mind.
½
Appreciate the execution. There's not much matter, yet it succeeds to keep the show going. While I was able to see it all coming and found it overtly predictable, I still wasn't bored by it (well, for enough of the part). Close enough to its prequel. On a side-note, if you're in the US of A, if something suspicious happens to you that may amount to a crime, don't let go of the situation & report it/write a book on it. It might as well be the next blockbuster/bestseller by disaster. Crime sells big time. Just killing ;-) Pardon the typos, whether or not intentional. But if it's intentional, it can't....... Have it as you please.
familiar stranger
Super Reviewer
Paradise Lost 2 - Revelations Quotes
There are no approved quotes yet for this movie.