Paradise Lost: Child Murders at Robin Hood Hills
(1996)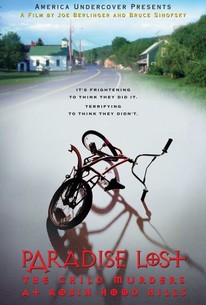 Movie Info
This nonjudgmental documentary examines a bizarre triple murder and the subsequent arrest, trial and dubious convictions of three teenage boys for the crime. In a peaceful Arkansas suburb, three eight-year-old boys are found maimed and brutally slain -- one of them was castrated. The community understandably goes into an uproar until one, mentally slow teen, Jason, comes forward and claims that he and two others killed the boys as part of a Satanic ritual. All are arrested, but the other teens, Damien and Jason, swear that they are innocent. The filmmakers then present widely disparate opinions from community members concerning the youths' guilt or innocence. The stepfather of one of the slain boys, vents his feelings by speaking to a pumpkin and then blowing it away with a gun. The whole trial is suspect and is based upon the testimony of Jesse who has an IQ of 74 and cannot keep his story straight. There is little evidence to conclusively prove or disprove their guilt. The filmmakers also intimate that others may have been involved, but those possibilities remain largely unexplored. The three boys all ended up convicted, but the niggling doubts remain.
Critic Reviews for Paradise Lost: Child Murders at Robin Hood Hills
Audience Reviews for Paradise Lost: Child Murders at Robin Hood Hills
½
A hard-hitting documentary that exposes the horrendous flaws of a justice system that can convict someone without any strong evidence based only on assumptions made by a jury of peers who have no instruction and are incapable of judging the case in an objective way.
Carlos Magalhães
Super Reviewer
Powerful documentary about how crooked the judicial system can be. This film follows the case of the West Memphis 3. This is a stunning documentary that definitely makes you ask questions. Now in this review I won't say my personal thoughts on this case, however I will say that what this film presented was a one sided case where the evidence was minimal and the verdicts were delivered as guilty due to the fact that they dressed in black, listened to heavy metal. This documentary is among the greatest documentaries ever filmed and is a must see for anyone looking for a compelling documentary. There is no doubt that the crimes committed were horrible, but what's more horrible is prosecuting the wrong people. This is a stunning film, one that should be seen. What stands out for me is how the boys accused of the crimes were vilified and directly seen as guilty because of the fact they listened to heavy metal, dressed in black and read books on the occult. The way the public perceived these three was very questionable and instead of looking at the evidence, they simply made them guilty right off the bat. This is a solidly crafted film that definitely is an eye opener. This is a hard film to watch, but also a necessary one to watch as well. Brilliant in showing both sides of the story, Paradise Lost definitely does a good job at giving the viewer his own interpretation of what is truth, and what is not. I really enjoyed the film, and though it was hard to watch, this film is still one of the most important documentaries on a criminal case ever filmed. This should be seen by anyone looking for a solid and interesting documentary.
½
Remarkable FILM. I'd have been at my wit's end had I had one. Murders can be a beneficial product, and can earn many a few name, fame and whatnot intentionally or otherwise. Learn to earn. And it deserves applaud for not brooding on the victims' footage (specifically dead) alone time and again..... even if that's done to spare the audience the horror of the crime. Its runtime seemed bothersome initially, but they've done a marvelous job in its execution.
familiar stranger
Super Reviewer
Paradise Lost: Child Murders at Robin Hood Hills Quotes
There are no approved quotes yet for this movie.