Paradise Now
(2005)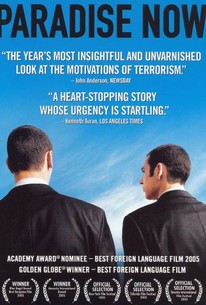 Movie Info
Two youths from the Gaza strip are just 48 hours away from becoming the latest suicide bombers. Two young Palestinian men, Khaled and Said, are both recruited to carry out a suicide bombing in Tel Aviv. The two men are allowed to spend what is presumably their last night alive with their families. However, since absolute secrecy must be maintained and they can tell nobody of their mission, theirs can be no proper farewell. The next morning, the men are brought to the border. The bombs have been attached to their bodies in such a way as to make them completely hidden from view. However, the operation does not go according to plan and the two friends lose sight of each other. Separated from each other and left to their own devices, it's up to them to face their destiny and stand up for their convictions...
Critic Reviews for Paradise Now
Audience Reviews for Paradise Now
Why commit suicide? You only lose everything. So what's a good reason? What? Revenge. And so this film looks at the motivation of some Palestinian boys fed up with the powerlessness in their own lives and decide to take matters into their own hands. Interesting and original, if simplistic.
Kevin M. Williams
Super Reviewer
Two Palestinian would-be suicide bombers get separated after their plot goes wrong. From the Palestinian perspective, there are few films that do their side of the conflict better than Paradise Now. Directors Hany Abu-Assad and Amedeo Pagani exhibit fearless filmmaking; they don't balk at choosing suicide bombers as their heroes and attempt to fully explore the conditions that would drive people to such extremes. We get the spouting rhetoric of the violent resistance's leaders, the war-torn landscapes, and some - though not enough - of the examples of how Israel's occupation affects the Palestinians' daily lives. The performances by the two leads, Kais Nashef and Ali Suliman, are fantastic. Especially after his haircut, Nashef reminded me of an Arab Clive Owen with his intense, piercing stare and his determined walk. Lubna Azabal plays "girl," but she does it fairly well. I thought the film did devolve into a reading of Fanon versus Gandhi post-colonial theory during the conversation between Suha and Khaled; this was the only time when I thought that the film's political analysis was not rooted in the characters. And I thought that Khaled's transformation wasn't portrayed completely; there certainly needed to be more steps along the way. Overall, for anyone interested in why political power players constantly discuss Israel and Palestine, this is an important film, and if you aren't interested in this conflict, you should be.
Jim Hunter
Super Reviewer
½
Unfortunately, I could neither relate to it, nor did I find it entertaining (but I suppose it wasn't meant to entertain). However, it wasn't too lengthy & the 90-something-minutes duration made it fairly watchable/bearable.
familiar stranger
Super Reviewer
Paradise Now Quotes
There are no approved quotes yet for this movie.