Paradise Road
(1997)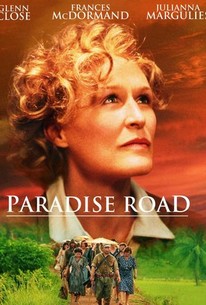 Movie Info
Based on the testimony of survivors, this historical drama recounts the WWII heroism of female prisoners of war. (Glenn Close) stars as Adrienne Partiger, a society doyenne who flees Singapore with other expatriate women, mostly the wives of servicemen, when Japanese forces invade in 1942. When their gunboat is sunk in an air attack, the survivors wash ashore on Japanese-held Sumatra. The women are interned in a grim POW camp where punishments for even minor infractions are extreme. With the help of a missionary (Pauline Collins), Partiger corrals the women, including a tough American (Julianna Margulies), an Australian nurse (Cate Blanchett) and a young wife (Jennifer Ehle) into a musical group. Since singing is not allowed, the a cappella chorus dubs itself "a vocal orchestra" and is tolerated -- if barely -- by their Japanese captors. Though living conditions are squalid, food is scarce, and a thin sliver of soap inspires a shower brawl, the music keeps spirits uplifted and a Jewish-German doctor (Frances McDormand) provides some medical aid. Writer-director Bruce Beresford interviewed real-life participants in similar POW musical groups. Some provided, from memory, sheet music of the pieces they performed, which were used in the film. ~ Karl Williams, Rovi
Critic Reviews for Paradise Road
Audience Reviews for Paradise Road
An excellent recounting of the horror of surviving a Japanese prisoner of war camp during WWII, that put this viewer in mind of "Playing For Time". Glenn Close plays Adrienne Pargiter, the wife of a British diplomat, who becomes the de facto leader of the women incarcerated on Sumatra. Joining her is a marvelous cast, including Frances McDormand (Dr Verstak), Cate Blanchett (Susan McCarthy), Julianna Marguiles (Topsy Merritt), and Pauline Collins (Margaret Drummond). Together, they face the brutality of their captors with dignity and courage and manage to put together a vocal orchestra and present classical music with only their voices. When they begin to sing, I defy the viewing audience to remain dry-eyed! A testament to the strength of the human spirit under the harshest conditions imaginable.
Mark Abell
Super Reviewer
How can you give this film anything but 5 Stars. If there is one thing I enjoy about any movie, is the fact that I learned something from it. It is ashamed that it takes 50 years to learn the secrets of a War. There seems to be more and more movies coming out that tell us of these hidden secrets. This is based on a true story. I had no idea that women were held prisoner of war during World War II. All the actors were outstanding. The Human Vocal band was out of this world. And as many captives will tell you, you must band together and work on something to keep your mind from whets really happening. This is a must see and a must add to the collection. 5 stars.
Bruce Bruce
Super Reviewer
Paradise Road Quotes
There are no approved quotes yet for this movie.