Paranoiac
(1963)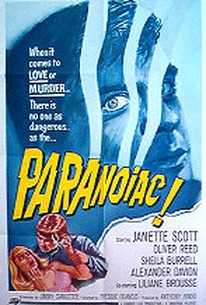 AUDIENCE SCORE
Critic Consensus: No consensus yet.
Movie Info
A woman must contend with her family's madness as she finds her own sanity in doubt in this thriller from British horror masters Hammer Films. After the death of her parents, Eleanor Ashby (Janette Scott) would seem a safe bet to inherit their estate, but at the funeral, she's convinced that she has seen Tony (Alexander Davion), her brother who killed himself seven years ago. Eleanor's other sibling Simon (Oliver Reed), who is inarguably alive, uses this as an excuse to contest the will, arguing that Eleanor is mentally unstable and an unfit heir. Simon's claims cause Eleanor to wonder about her sanity, and in a moment of weakness she attempts suicide. Tony rescues her and tells her that he never died but simply went into hiding. He returns to the family's mansion, but soon he and Eleanor become the subject of a number of violent attacks by a masked lunatic before Eleanor learns a surprising secret about Tony. Paranoiac marked the directorial debut of ace cinematographer Freddie Francis. ~ Mark Deming, Rovi
Critic Reviews for Paranoiac
All Critics (4) | Fresh (2) | Rotten (2)
Paranoiac borders on camp with its over-the-top plot and stratospheric broadcasting.
Mesmo procurando recriar o impacto de Psicose, as várias reviravoltas deste filme mantém o espectador sempre surpreso, e o clima de tensão é eficaz. Infelizmente, a conclusão (ao contrário do clássico de Hitchcock) deixa um pouco a desejar.
August 11, 2003 | Rating: 4/5
Audience Reviews for Paranoiac
½
Part of an 8 film set of Hammer horror. Released a year before Nightmare, another Hammer film in the same set, they have a similar set-up with domestic, contemporary chills, rather than the historically set classic movie monster adaptations. I think this one is much less inspired than Nightmare. This is another one directed by cinematographer Freddie Francis, and while the black and white imagery is not bad, it does nothing particularly noteworthy. The twists in the plot involving the spoiled Ashby family feel like the script was unfinished and multiple changes were made while filming was occurring. A third Ashby sibling returns home after everyone thought he had died. Certain characters embrace him, others are paranoid that it is an imposter out to scam the family for inheritance money. Roughly halfway through we find out the truth, but the story isn't over. Characters shift positions and now there is a new scam with a different character scared that they are being manipulated and driven crazy. Then a new level of crazy is revealed in the family history. This last twist involves the one truly creepy shocker, which is the masked character pictured here and wherever you search for this movie. The family drama is mostly dull. I don't enjoy most Oliver Reed performances. And nothing that they tell you or show you on screen can be trusted.
Byron Brubaker
Super Reviewer
½
This one is as good as any Hitchcock film out there, and unlike any other hammer film I have ever seen, No real horror here just a twisted suspense drama. All parties play an outstanding part. About a family whose youngest brother returns from the dead in real life, 6 days before estate inheritance, if I tell you anymore it will give best parts away. My first 5 star black & white film.
Bruce Bruce
Super Reviewer
From what I've seen to this point, there seem to be two different types of Hammer films. You've got the colorful atmospheric gothic-styled monster movies then you've got the more drab black and white psychological suspense types. I'll openly admit to liking the former better but every once in a while I run into one that kind of questions my preference. Paranoiac didn't make me question my allegiance. Its certainly not an awful movie by any means, it just shouldn't be one of the first Hammer movies you see. Freddie Francis' direction was pretty good (the climax was particularly well done) and the acting for the most part was pretty good with Oliver Reed doing an excellent job at playing an absolute asshole. Paranoiac isn't a bad movie to have under your Hammer belt provided you've seen at least 10 with Christopher Lee and/or Peter Cushing first.
Michael Gildea
Super Reviewer
Paranoiac Quotes
There are no approved quotes yet for this movie.