Paranoid Park
(2007)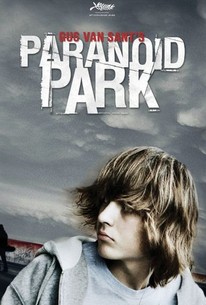 TOMATOMETER
AUDIENCE SCORE
Critic Consensus: Director Gus Van Sant once again superbly captures the ins and outs of teenage life in Paranoid Park, a quietly devastating portrait of a young man living with guilt and anxiety.
Movie Info
An unsolved murder at Portland's infamous Paranoid Park brings detectives to a local high school, propelling a young skater into a moral odyssey where he must not only deal with the pain and disconnect of adolescence but the consequences of his own actions.
News & Interviews for Paranoid Park
Critic Reviews for Paranoid Park
Audience Reviews for Paranoid Park
This could have turned Gus Van Sant's "Death Trilogy" into a quadrilogy, if not for the fact that it's based on a novel as opposed to being inspired by a true story. I mean, that aside, it's still a rather minimalist, quiet, artsy film with a deliberate pace, and, like Elephant, features primarily unknowns, and deals with youth. Gabe Nevins is Alex, a 16 year-old skateboarder who is a mostly decent and intelligent kid. Yeah, his parents are on the verge of getting a divorce, but it could be worse. He's got a cute girlfriend, despite their not being much of a connection between them, and he's also got another cute girl who is his confidante. His life definitely spirals downhill when a run-in with a security guard results in a grisly, though accidental death. Now in a state of panic, confusion, and guilt, Alex tries his best to deal with the consequences and guilt of youthful recklessness. I really liked this. It's not quite as ponderous or hard to get through as some of the entries in the aforementioned "Death Trilogy", but it's just artsy and indie enough to still let Van Sant retain some credibility with the non-mainstream crowd. The film is all about tone, and is a deliberate look at the pains of being a teen. Gabe Nevins is great here. This was his first role, and he's a natural. I hope this doesn't end up being his only foray into cinema, as he's got a high level of naturalism and pathos. The only person who was known before this is Taylor Momsen as Alex's girlfriend Jennifer. She's not bad, and easily sheds the skin leftover from The Grinch, but even if she's decent, she's overshadowed by Nevins, or Lauren McKinney as Macy- Alex's BFF and confidante. I would love to see more from McKinney. Another highlight is Dan Liu as the suspicious detective investigating the case. He's a toughie, but also balanced. He might be authoritative, but he's fair, too. The film is very well shot, and evokes an appropriately dreary mood to match the proceedings. There's also some slow-mo, which, as good as it is, might be just a tad bit overused, especially in a somewhat unnecessary long take that follows Alex around school. Don't get me wrong, I love long takes, and this one's well done, but it doesn't really feel necessary or motivated. All in all, this is a fine film, though I'll admit that if this wasn't Van Sant, then it wouldn't really be anything to write home about, or at least not quite as worthy of your time.
Chris Weber
Super Reviewer
½
'Paranoid Park'. Loved the look and non-linear, slowly unravelling scenes, but felt very detached from the main protagonist; maybe that's what Van Sant was going for.
½
A slow-burn exercise in guilt and the always troubled teenage lifestyle, especially one 16-year old (Gabe Nevins) who gets himself involved in a case concerning a dead security guard after it appears he may have been at the scene of the crime. The art of skateboarding has never been viewed through more adoring lenses than by director Gus Van Sant here, as he never misses an opportunity to use slow-motion shots to capture the beauty some particular skaters possess when it comes to their sport. However, sometimes he comes close to Zach Snyder super-duper slow-motion territory, in which it threatens to overpower the rest of his movie. However, Van Sant is a more skilled and polished auteur than Snyder will ever be, and as a result 'Park' works in a quiet, haunting way as it effectively captures what this particular character is going through. The film could be a little longer and some supporting characters could have used a little more meat, but that still does not take away from the almost inexplicably riveting tale Van Sant puts on screen here, despite the film possessing a lot of dead air and looks of detachment from its lead star.
Dan Schultz
Super Reviewer
Paranoid Park Quotes
There are no approved quotes yet for this movie.